Yabloko holds a demonstration against housing demolition in Moscow
Press release, 28.05.2017
On 28 May, over five thousand people participated in a demonstration against the plans of the City Hall to demolish about 8,000 five-story apartment buildings in Moscow and resettle 1,6 million residents. Yabloko strongly criticizes the the government's "housing renovation programme", which gives the city authorities the exclusive rights to demolish five-story buildings. The Moscow branch of Yabloko and Moscow Rescue Committee were among the organizers of the protest action. Chair of Moscow Yabloko Sergei Mitrokhin and Yabloko Chair Emilia Slabunova also took part in the action.


The participants of the demonstration held placards expressing disapproval of the City Hall's plan to demolish five-story apartment buildings.
Police officers confiscated large banners, where the names of Moscow Mayor Sergei Sobyanin and President Vladimir Putin were written.
The demonstration was followed by a rally.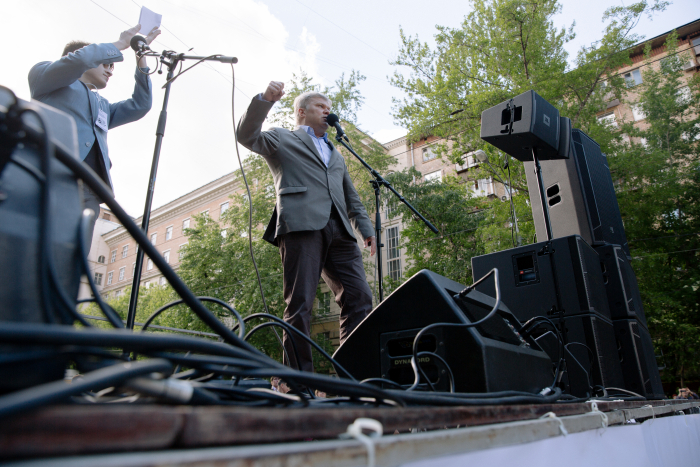 "When Sobyanin became Mayor of Moscow seven years ago, I as many people here, suspected that no good will come of it. Could anyone here imagine that it would come to such outrage?! This outrage has already infringed upon the federal legislation," Sergei Mitrokhin addressed the audience. He also added that the renovation programme violated the right to private property.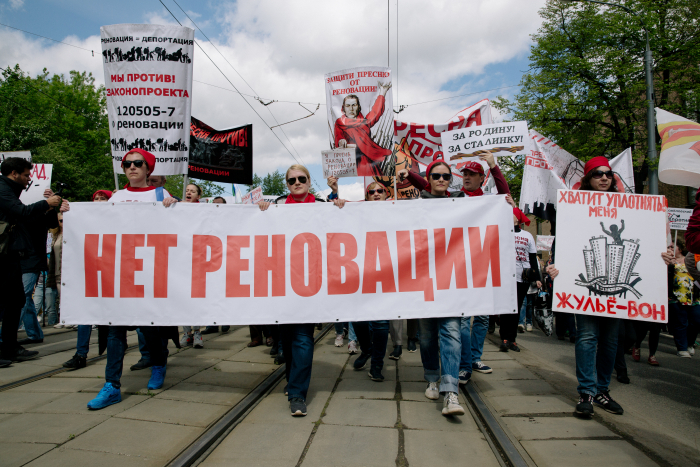 Yabloko Chair Emilia Slabunova also made a speech at the rally. "Yabloko has always stood for decent living standards for people. However, the so called renovation programme unveils the true aims of its organisers: to show the Muscovites that they have no rights here.
Of course, they have a different goal – to support developers and banks," she noted.
Slabunova also called the residents to participate in the forthcoming municipal elections as Yabloko's candidates. "We will be able to defend the interests of the Muscovites only if we have a strong team of municipal deputies," added Yabloko Chair.

Municipal deputy and Yabloko member Elena Rusakova also made a speech against the renovation programme: "Let's have a look at what those who developed this renovation programme are trying to show us. They are trying to show that Moscow is their territory where they can do whatever they want". She called the audience to stand for their rights.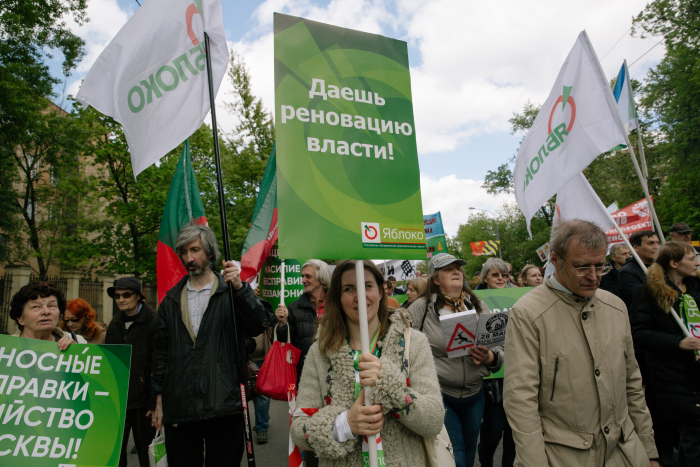 Posted: May 28th, 2017 under Human Rights.