Moscow State University's sociologists: Yavlinsky is the third most popular presidential candidate after Putin and Medvedev
Based on the article by the Kommersant newspaper, 28.11.2016
Yelena Shestopal, head of the sociology and political psychology department of Moscow State University, submitted a research according to which Grigory Yavlinsky became the third most popular presidential candidate in Russia after Vladimir Putin and Dmitry Medvedev. The report was launched at the conference of the Russian Political Science Association, the Kommersant newspaper reports.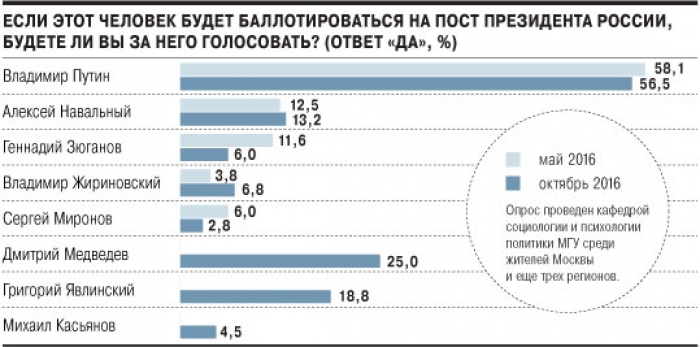 According to the survey which was conducted within the research, Grigory Yavlinsky polled third (with 18.8 per cent) leaving behind [blogger and critic of corruption and Presidnet Putin] Alexei Navalny (13.2 per cent) And the traditional nominees from the parliamentary parties – Vladimir Zhirinovsky of the LDPR (6.8 per cent), communist Gennady Zuganov (6 per cent), and Sergei Mironov of Just Russia (2.8 per cent). Prime Minister Dmitry Medvedev polled second (25 per cent), the incumbent President Vladimir Putin gained the lead (with 56.5 per cent). PARNAS Chairman Mikhail Kasyanov was supported by 4.5 per cent of the respondents.
Despite the stable high approval of Putin, the society has long-term requirements "not only for the demonstration of a candidate's personal power and reliability but for an action programme, precise points and values," Yelena Shestopal noted. According to Shestopal, during the next presidential campaign Russians might expect "a serious development strategy of the country, not just concrete promises to raise one's salary or pension by five thousand roubles".
The YABLOKO party nominated Grigory Yavlinsky its presidential candidate in summer 2015. The party claims that the only way to fundamentally change the situation in the country and lead Russia out of the deadlock where it is now, is to change the key person who wields maximum power. Grigory Yavlinsky is the only politician who is ready to propose a real and effective alternative to the current policy and become a personal alternative to Vladimir Putin.
You can find Grigory Yavlinsky's presidential platform here
Posted: November 28th, 2016 under Elections, Presidential Elections, Presidential elections 2018.