YABLOKO's Gender faction gathered 43,000 signatures in support of The Sisters sexual assault recovery centre
Press release, 25.11.2016
Galina Mikhaleva, Chair of YABLOKO's Gender faction, and Olga Radayeva, Deputy Chair of the Gender faction, handed 43,000 signatures in support of the The Sisters sexual assault recovery centre to Olga Yurkova, Chief Executive Officer of the organisation.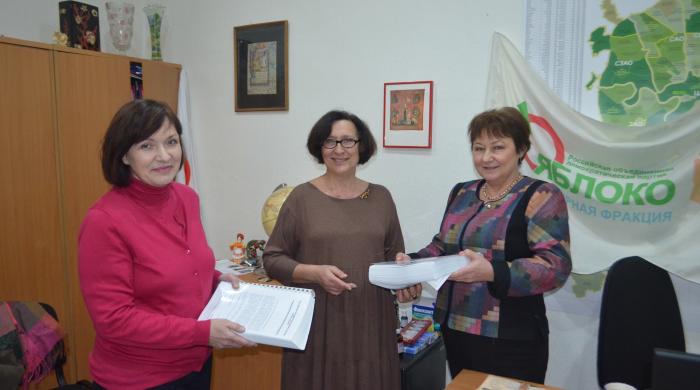 The Gender faction initiated a petition in order to support The Sisters centre, which has serious financial problems. It is the only one organization in Russia that exists specifically to help victims of sexual assault. The petition calls the government to appropriate budgetary funds to the centre. At the moment The Sisters organisation exists only due to the donations of the citizens. However, the had to curtail some of their projects.
Olga Radayeva, who had managed the campaign in support of The Sisters, said that she had realised the importance of the centre's activity and the support provided by the staff, when she was collecting the signatures.
Galina Mikhaleva noted that YABLOKO would continue cooperating with the Sisters centre. Olga Yurkova and Galina Mikhaleva agreed to conduct lectures and trainings of the centres' experts with YABLOKO's Gender School.
The Sisters centre was one of the first emergency response centres within the territory of the former USSR. The experts of the centre have been providing psychosocial an legal support to sexual assault victims, conducting trainings and publishing information materials for more than 20 years. At the moment the centre is struggling to make both ends meet. The government is ignoring the centre when giving grants to non-profit organisations.
Posted: November 28th, 2016 under Gender Faction, Human Rights.