Ex-political prisoner Yevgeny Vitishko elected Chair of the Krasnodar Territory branch of Yabloko
Press release, 17.07.2017
On 16 July, a prominent environmental activist and ex-political prisoner Yevgeny Vitishko was elected Chair of the Krasnodar Territory branch of Yabloko. In January 2014 Vitishlo, known for his criticisms of the environmental impact of the Sochi Winter Olympics, was sentenced to a three-year imprisonment by the Krasnodar Regional Court for spray-painting an illegally erected construction fence in the middle of a nature reserve. In December 2015 Vitishko's imprisonment was replaced with custodial restraint.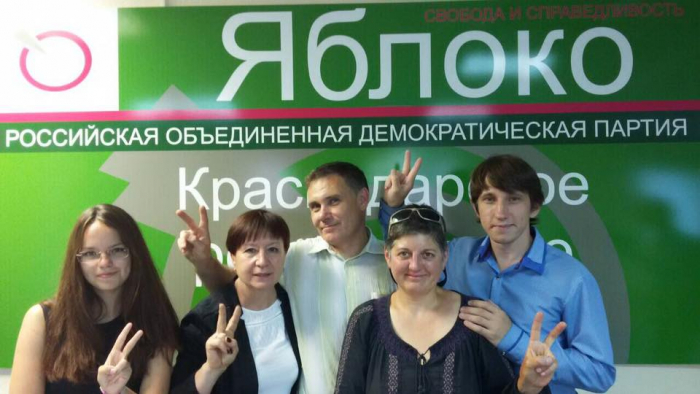 Alexander Korovayny and Irine Ilyenkova were elected Deputy Chairs of the regional branch. On the whole, 13 people were elected to the regional council.
The conference also nominated candidates for deputies of the Legislative Assemble of the Krasnodar Territory. The party list of candidates consists of 36 while 18 nominees will run in the single-mandate constituencies. The list of candidates was headed by Yevgeny Vitishko.
Both Russian and international organisations repeatedly made statements in support of Vitishko. In 2014 Amnesty International declared Vitishko the prisoner of conscience. In March 2015, the Office of the United Nations High Commissioner for Human Rights addressed Russia with a call to take urgent measures to protect Evgeny Vitishko's rights and freedoms. Human Rights Watch also addressed the Russian authorities demanding to release Evgeny Vitishko. Former ALDE Party President Sir Graham Watson stated that he "finds it cynical against the background of the Winter Olympics that a respected environmentalist from the Sochi region, who was protesting against the severe destruction of ecological systems in and around Sochi in connection with the Olympic games, receives such a lengthy sentence".
Posted: July 17th, 2017 under Environmental Policies, Evgeny Vitishko case, Human Rights, Local and Municipal Elections 2017, Protection of Environment, Regional and Local Elections.