Yabloko's Anti-Corruption Policy Centre: Reconstruction of the Central House of the Entrepreneur at the cost of 916 million roubles resulted in a fire
Press release, 28.07.2017
A fire broke out at the Central House of the Entrepreneur, where the 35mm cinema is situated. The news was reported by the owners of the cinema. A female employee of the cinema is reported to have been injured but she was rescued by the fire brigade.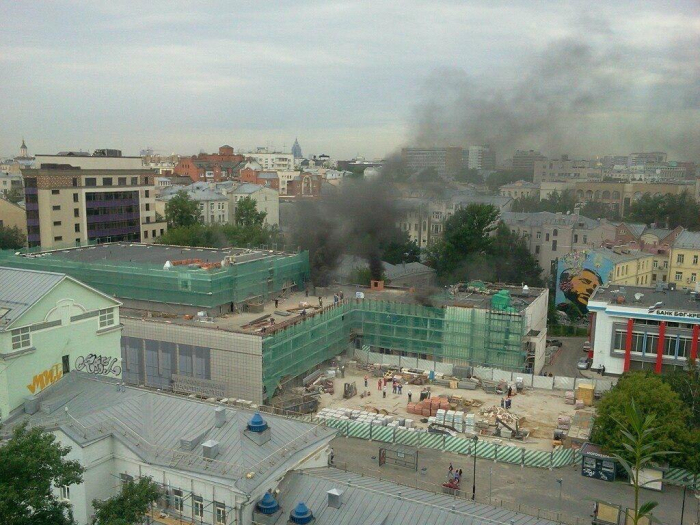 According to Yabloko's Anti-Corruption Policy Centre, presumably the fire broke out as a result of safety breach during the reconstruction of the building. Earlier the Centre discovered that the Monarkh company owned by United Russia's sponsor Sergei Ambartsumyan received a government contract for the reconstruction and erection of "the kinetic elevation" of the building at the cost of 916 million roubles. The head of Yabloko's Anti-Corruption Policy Centre Sergei Mitrokhin demands that Moscow Mayor's Office must dissolve the contract with the Monarkh company and make Ambartsumyan pay for the damage. "The Mayor's Office has been trying to drive the cinema out of the premises for years. I leave open the possibility that an arson took place and demand that a criminal case under Article 167 of the Criminal Code of the RF must be filed," Mitrokhin said.
Earlier Yabloko's Anti-Corruption Policy Centre investigated that 76 million roubles out of 156 million roubles allocated for the repair works of the Central House of the Entrepreneur were embezzled. Ex-director of the Small Business of Moscow agency Alexander Bogza was involved in the case. Last June the Chamber of Control and Accounts of Moscow confirmed that harm at the amount of 65 million roubles was inflicted to the state during the repair works of the building. However, law enforcement made no response to the investigation, and the probe has been on for over a year.
Posted: July 31st, 2017 under YABLOKO against Corruption.