Yabloko commemorates lawyer Stanislav Markelov and journalist Anastasia Baburova
Press release, 19.01.2019
Today Yabloko activists and leaders have laid flowers to the place where lawyer Stanislav Markelov and journalist Anastasia Baburova were killed – at 3 Prechistinka Ulitsa.
"Nationalism and neo-Nazism are a serious threat to public security," Emilia Slabunova, Yabloko Chair, said.
The politician recalled Markelov's speech two months before he was murdered. He said we all needed protection from terror: from a mafia state, neo-Nazis and fascism, lawlessness. He said that nobody would stand up for us but ourselves.


"Markelov's words are still topical ten years after. We must never forget political crimes. Memory will help us to bring criminals to justice. This way we will fight nationalism, extremism, terrorism, ensure public security and the right to life, freedom, dignity, liberty for us and our children," she noted.
According to Sergei Mitrokhin, member of Yabloko Federal Political Committee, the loss of Markelov and Baburova is still fresh today. "Perhaps, if they were alive, the life in our country, and in Moscow, would be different, the atmosphere would be different," the politician said.
Mitrokhin explained that their murder proves that nationalism was a real threat in its worse form. "We can by no means say that this evil has been defeated. It is still part of our political and social sphere, nationalistic moods are promoted by TV propaganda. Unfortunately, the government learned no lessons after this tragedy," he said.
"Today we are commemorating all politicians and journalists who were murdered. Some of our party members are on this list too. At the moment the government cannot protect those who are telling the truth".
Ten years ago Markelov and Baburova were murdered in the centre of Moscow in plain daylight on 19 January 19, 2009, shot in the head.
Neo-Nazis Nikita Tikhonov and Evgenia Khasis were rested in 2009 on suspicion of murder. In 2011 Tikhonov was sentenced to life imprisonment, Khasis was sentenced to 18 years in prison. In 2015 Ilya Goryachev, leader of a nationalist group "BORN", was sentenced to life imprisonment.
Yabloko conducts actions in memorial ceremonies to commemorate Markelov and Baburova annually.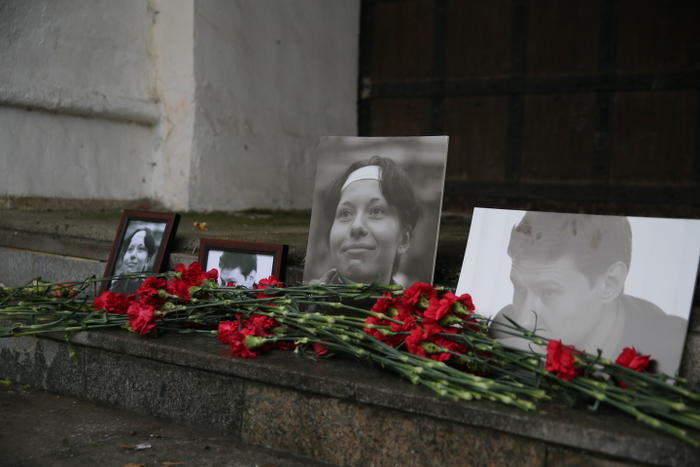 Posted: January 22nd, 2019 under Human Rights.