Yabloko calls for resignation of Chair of Moscow Electoral Commission and claims that numerous violations of the elections take place all over the country
Press release, 10.09.2017
The Yabloko party calls for the resignation of Chair of the Moscow Electoral Commission Valentin Gorbunov for a deliberate dropping of the voters turnout in Moscow. The following statement was made by Yabloko Deputy Chair Nikolai Rybakov during a briefing at the Yabloko election headquarters.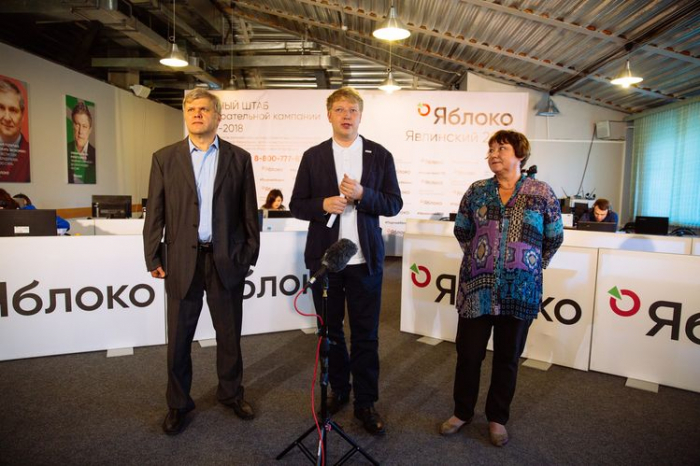 "For the first time in the history of election campaigns in Moscow the voters received no official data about the elections. The Central Electoral Commission brought up the issue only a few days before the voting day, but it was too late. Moscow Mayor Sergei Sobyanin bears political responsibility for the deliberate dropping of the voters turnout while Chair of the Moscow Electoral Commission Valentian Gorbunov bears organisational responsibility," Rybakov said.
Yabloko Deputy Chair emphasized that the turnout of voters was very low all over the country while the number of people who voted ahead of the election day was quite high.
He gave the situation in Barnaul, where Yabloko is running for the city parliament, as an example. The turnout in the early voting made nearly 6 per cent. The general turnout as of 15:00 made 14 per cent. Those who voted ahead of the voting day are mainly employees of government-financed organizations, who are afraid to admit that they were under pressure. Nikolai Rybakov said that Yabloko would seek a separate counting of votes which were obtained on the election day and during the early voting.
Yabloko will also seek a separating counting of the votes in the Pskov Region, where Yabloko is running in the elections in all the municipalities including the Pskov city parliament.
Chair of Moscow Yabloko Sergei Mitrokhin spoke about the "abnormal" number of requests for voting at home.
Thus, 418 people in the Krasnoselsky district voted at home. The reports on the situation were coming for the district electoral commissions No 342, No 52, No 3040.
Yabloko's is receiving a lot of calls on the violations of the elections. A large number of servicemen voted at the district electoral commission No. 400 in Moscow. It is the violation of Part 6 Article 10 of the Moscow Electoral Code, according to which servicemen have the right to vote in the local elections only if they were registered at the following municipal unit before they were called up. According to municipal candidate Daniel Agnevsky, the number of service, who voted at one of the polling stations in the Arbat district, exceeded the number of residents, registered there.
There are also reports that election observers were not allowed to examine the voters lists as well as prohibited from taking photographs at some polling stations in Moscow.
Yabloko is taking part in 207 election campaigns in 22 regions of Russia. The party nominated 357 candidates on the lists of candidates and 971 candidates in single-mandate and multi-seat constituencies. This number includes 726 nominees who are running in the Moscow municipal elections.
Posted: September 10th, 2017 under Elections, Local and Municipal Elections 2017, Regional and Local Elections.