Winners of Golden Toilet Brush 2017 negative award to be announced on air of Alternativa programme
Press release, 10.08.2017
On 17th August, deputy head of Yabloko's Anti-Corruption Policy Centre Alexei Karnaukhov will announce the winners of the Golden Toilet Brush negative award 2017 on air of Yabloko'a Alternative programme. The prize is made in the shape of a golden toilet brush and will be awarded to the officials who made the most absurd and wasteful purchases out of public funds. The programme will be broadcasted live on YouTube at 08:00 p.m. and on the social media accounts of the party.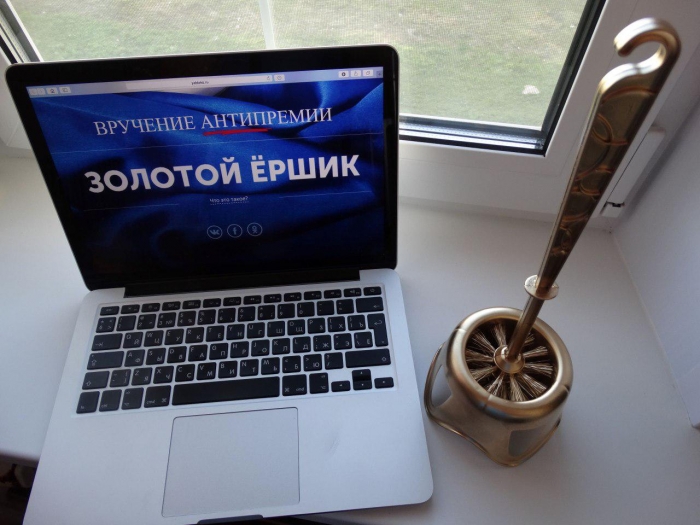 Interior Minister Vladimir Kolokoltsev, TV presenter Vladimir Solovyev, CEO of the Rosneft oil company Igor Sechin and others are among the nominees this year.
The winners will be announced on air of the Alternativa programme.
The winners will get a diploma for embezzlement of budget funds and a golden toilet brush.
The award was established by the St. Petersburg branch of Youth Yabloko in 2008. Yabloko activists decided to award golden toilet brushes because then Governor of St.Petersburg Valentina Matviyenko and her administration purchased gold-coloured toilet brushes at a price of 12,000 roubles (approximately USD 462) per piece for the Governor's office. Head of Chechnya Ramzan Kadyrov, Vasily Yakimenko, then head of the State Committee for Youth Issues and founder of the Nashi movement, and other famous persons were among other nominees, too.
In 2016 Yevgeny Murov, ex-Director of the Federal Security Service, became the winner of the award because the Federal Security Service purchased women's underwear, swimsuits, luxury linens, harp strings, a Germany made two-ply bicycle for 212,000 roubles, tights for 928,000 roubles, a muzzle with a leash, and a leather whip for the presidential residence in Zavidovo.
Posted: August 10th, 2017 under YABLOKO against Corruption.