Police detained Sergei Mitrokhin by the State Duma during an action against the government's housing renovation programme
Press release, 09.06.2017
UPD 3. 14.40: Sergei Mitrokhin and Anton Antonov-Ovseyenko were accused of violation of the procedure of public actions organization (paragraph 5, article 20.2 of the Administrative Violation Code of Russia). It means they may be fined 10,000 – 15,000 thousand roubles or get up to 40 hours of community service. The court hearing will take place on 29 June.
Mitrokhin claims he did not violate the law because one-person pickets do not need authorisation.
UPD 2. 12.40: Sergei Mitrokhin and Anton Antonov-Ovseyenko have been detained for the second time today. Police is taking them to the Tverskoye police department. Mitrokhin was detained for taking a placard away from the women whom the police wanted to detain for holding a one-person picket. Due to this police let her go but detained Mitrokhin.
UPD 1. Sergei Mitrokhin and Anton Antonov-Ovseyenko have been released in an hour. Mitrokhin says they were released due to the mass protest against the actions of police.
Police have detained Chair of Moscow Yabloko Sergei Mitrokhin and head of Moscow Yabloko's community liaison office Anton Antonov-Ovseyenko by the State Duma during the protest action against the housing renovation programme developed by the government. The State Duma deputies are considering the draft law in the second reading today. At the moment Mitrokhin and Antonov-Ovseyenko are in the police a police van.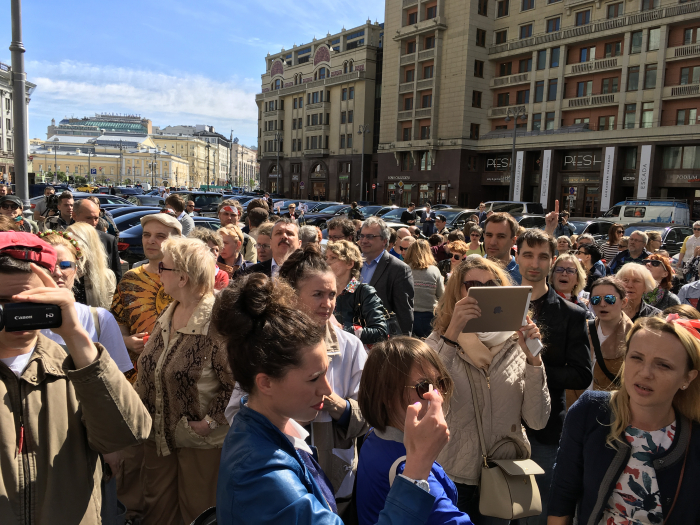 Sergei Mitrokhin held the placard which ran "Sobyanin's [Moscow Mayor]"renovation" is barbarism of the 21st century". Almost several police officers started detaining him at the same time. According to Antonov-Ovseyenko, Mitrokhin was detained in a brutal way but he offered no resistance.
About 300 people gathered by the parliament building. They did not leave despite the detentions.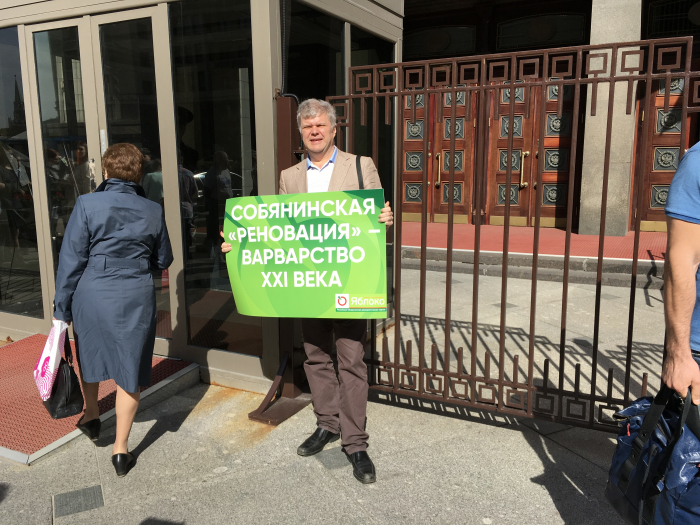 Yabloko stands against the government's "housing renovation programme", which gives the city authorities the exclusive rights to demolish five-story buildings. The party claims that the programme deprives Muscovites of their private property.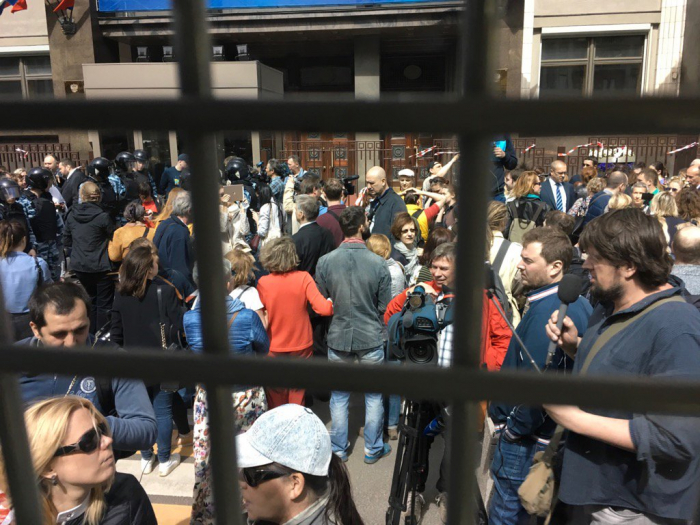 Sergei Mitrokhin took a photograph as he was inside a police van
Mitrokhin says that if the bill is adopted, it will result into deterioration of the urban environment, growth of discomfort, social instability and environmental problems.
Yabloko has been protesting against the renovation programme since it was announced. The activists conducted a protest action on 20 April during the first reading of the draft law on the renovation. The party supported the rally against the renovation programme on 14 May and was among the organisers of the rally on 28 May.
Posted: June 9th, 2017 under Human Rights, YABLOKO against Corruption.