Kirill Bobro gets three days in jail for organising a one-person picket
Press release, 28.02.2017
Today the court has sentenced Kirill Bobro, the leader of the Stavropol branch of Yabloko Youth, to three days in jail for organising a one-person picket by the FSB security service office in Stavropol, south Russia. Bobro did not admit his guilt and went on hunger strike in protest at the decision.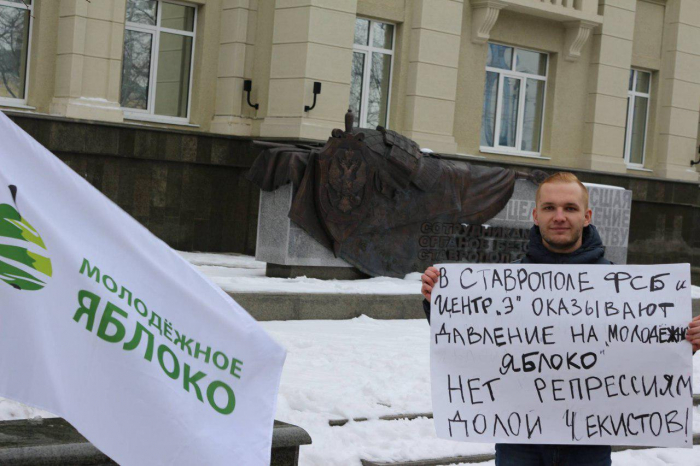 The activist was charged with violation of Article 20.2 of Russia's Administrative Code (violation of the established procedure for organising or conducting a gathering, meeting, demonstration, procession or picket). The court claims that Kirill Bobro organised the picket since he wrote a post about it on the Vk social networking service and is the leader of Yabloko Youth in Stavropol. Another participant of the picket Ivan Tansky was declared not guilty.
According to Russia's legislation, a one-person picket requires no special sanction, therefore three activists protested against the persecution of opposition in Stavropol holding one placard in turns. The police officers, who observed the action, had no claims about it. Four days later, on Fabruary 22, police detained Kirill Bobro as he was leaving his flat and brought him to a police station where they left him until morning. Since the court hearing was postponed until February 28, he was released. Today the court refused to consider the action a one-person picket claiming that three people, who are members of the same organisation and are united by the same idea, participated in it. The court did not take into consideration that Bobro was not provided with a lawyer when the report was filed.
The activists picketed the FSB office because of the threats to the organiser of the rally in memory of Boris Nemtsov Anastasia Antonets. On February 17, the FSB officers came to the flat of Anastasia Antonets' parents under the pretext of checking their gun license. They asked the parents to warn their daughter against the possible negative consequences of the rally ("what if someone is going to drink alcohol in a public place or suddenly breaks a couple of benches" an so on). They also demanded that on February 20 Anastasia Antonets must write an application on the rejection to hold the rally and stop further political activity.
YABLOKO Chair Emilia Slabunova forwarded a request to the FSB Chief Alexander Bortnikov demanding to bring the department officers to responsibility for putting pressure on the party activists in Stavropol. YABLOKO claims that such actions are unlawful and unacceptable, they put obstacles in the way of freedom of expression of people and violate one of the basic constitutional rights of the citizens – the right to freedom of assembly, runs Emilia Slabunova's request.
Today Moscow Yabloko Youth will hold a series of one-person picketsd demanding to release Kirill Bobro by the FSB headquarters in central Moscow.
Posted: February 28th, 2017 under Human Rights, Murder of Boris Nemtsov, Persecution of Young Activists in Stavropol, Yabloko Youth.