Grigory Yavlinsky: "Overcoming poverty is the major task of the future president"
Press release, 22.12.2017
Grigory Yavlinsky made a speech at the Yabloko party congress where he was officially nominated candidate to the post of President of the Russian Federation. He said that the first task that the future president would have to solve should be overcoming poverty.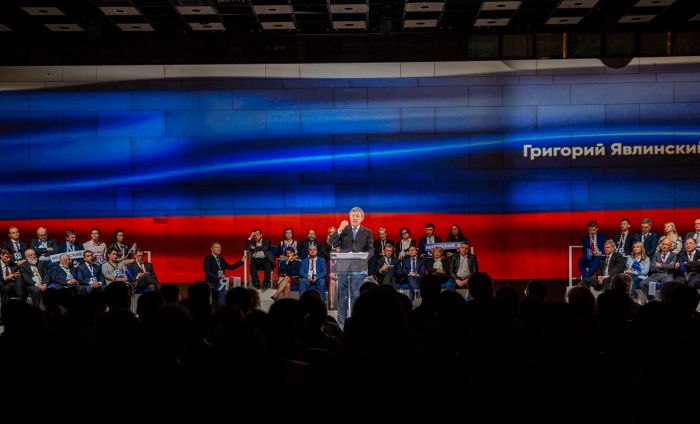 "A quarter of families in Russia today assess their financial situation as bad and very bad," Yavlinsky said. "30 per cent can not afford anything except food, 40 per cent of large families treat themselves as extremely poor. This figure is even higher for pensioners. 38 per cent can not pay housing and utilities bills," Yavlinsky noted.
"There can not be a president in Russia who does not see and does not solve these tasks. The foundation of any economy and the evidence of growth is reduction of poverty," Yavlinsky stressed proposing a number of definite measures to solve the problem.
Moreover, Yavlisnky proposed to abolish income tax for all the citizens whose income is less than the minimum national living wage or exceeds it by 15 per cent (this concerns every sixth working citizens of Russia).
Another important issue concerns wages. According to Yavlinsky, the pension accounting system should be transparent and reliable. Yavlinsky promised to end the withdrawal of the investment part of the state pension. "The minimum pension level for 30 years of pensionable service should be at least 40 per cent of a person's salary," he said.
Another point of his socio-economic programme is to establish the Senior Generation Foundation. "Those who founded the country, endured everything that took place here deserve a decent life along with the future generation," the politician explained.
"Freedom from fear of lawlessness and poverty will give Russians an opportunity to make effort and try to fulfil their potential. We need a stable development instead of a stable deadlock. This is why I an running in the election," Yavlinsky said.
Read the full speech
Posted: December 24th, 2017 under Presidential elections 2018.