Collection of signatures for Russia's withdrawal from the war in Syria launched in Moscow within the framework of Grigory Yavlinsky presidential election campaign
Press release, 31.07.2017
Collection of signatures for Russia's withdrawal from the war in Syria was launched in Moscow within the framework of the Time to Return Home campaign targeted at allotting federal budget funds to Russia's domestic development, not to foreign policy ambitions and adventures. Time to Return Home is a part of Grigory Yavlinsky presidential election campaign.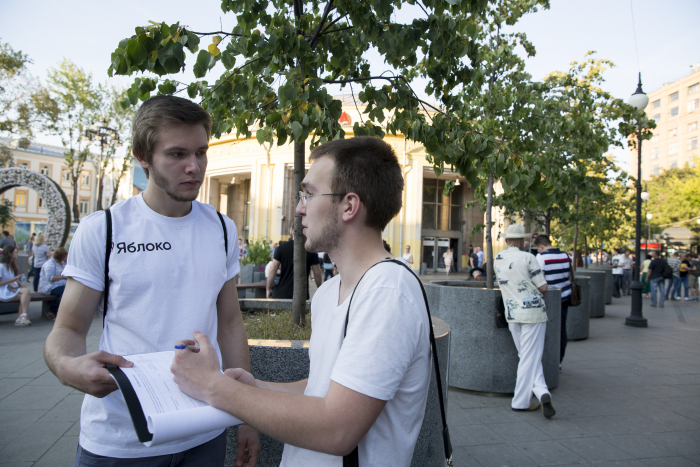 YABLOKO activists will be collecting signatures in support of the Time to Return Home campaign for a month starting from this date. Each person putting his signature will receive a leaflet showing how Moscow could have disposed of the 100 billion roubles spent on Russia's military operation in Syria.
The prefecture of the central administrative district of Moscow prohibited Yabloko from placing campaigning stands, therefore the party activists had to conduct one-person pickets in the city centre.
Last week Yabloko planned to conduct pickets by the exits from the central metro stations. However, the city authorities responded that pickets "must take place by the picketed object and the public expression of one's opinion must be aim at the picketed object". At the same time, they did not explain what a picketed object in this case was.
Moreover, they considered that Yabloko's pickets may "threat safety in case of unfavorable weather conditions as well as put obstacles in the way of passers-by".
Yabloko also tried to authorise 10 mass pickets in other administrative districts of the city. However, the city authorities refused to give an official permission for the actions.
According to a Regional Council member of the Moscow branch of Yabloko Kirill Goncharov, Yabloko managed to collect over 2000 signatures within the first days of the campaign.
On the whole, signature collection takes place in the central streets and squares of 50 cities in 40 regions of the country. Yabloko has already managed to collect 50,000 thousand signatures in less than a month.
In his video address Grigory Yavlinsky called his supporters "to raise the issue of peace and prosperity of our country as the key issue of the agenda". "This is the essence of my political activity so that to offer people a definite alternative to the present policies that would be close to them and their families and important for millions of Russian citizens. And I will fight for success, for the implementation of this alternative – for the victory and for our country! – to the end, not surrendering or retreating," he said.
It is also possible to put one's signature in support of the initiative via Yabloko's website.
Posted: July 31st, 2017 under Presidential elections 2018, War in Syria.