Yavlinsky's Public Campaign Headquarters launched in Moscow
Press release, 23.01.2018
On 23 January, Grigory Yavlinsky's Public Campaign Headquarters was launched in Moscow. The initiative to open the headquarters belongs to politician Vladimir Ryzhkov, Novaya Gazeta newspaper publisher Dmitry Muratov and ex-Mayor of Petrozavodsk Galina Shirshina. According to Yavlinsky, their support is a big honour for him. The Public Campaign Headquarters will function along with Yabloko's campaign headquarters and will focus on promoting Yavlinsky's electoral programme and involving news supporters among key opinion leaders.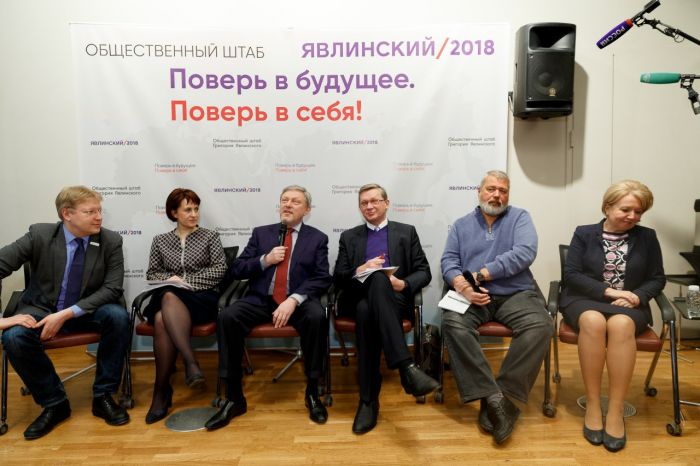 According to the head of Yavlinsky's campaign headquarters Nikolai Rybakov, "many people, who are generally recognised in our country, including renowned human rights advocate Svetlana Gannushkina, journalist Vladimir Kara-Murza, academician Yuri Pivovarov, professor of Moscow State University of Foreign Affairs Tatyana Chernikova, political scientist Nikolai Petrov, economist Igor Nikolayev and many others joined the headquarters".
Politician Vladimir Ryzhkov said that being a ch-Chair of Yavlinsky's Public Headquarters was a big honour for him. "I see this activity as part of the line on the consolidation of the democratic opposition, which we started several years ago," he explained.
He criticised the idea of boycotting the presidential election saying it was "unproductive and harmful for democracy in Russia".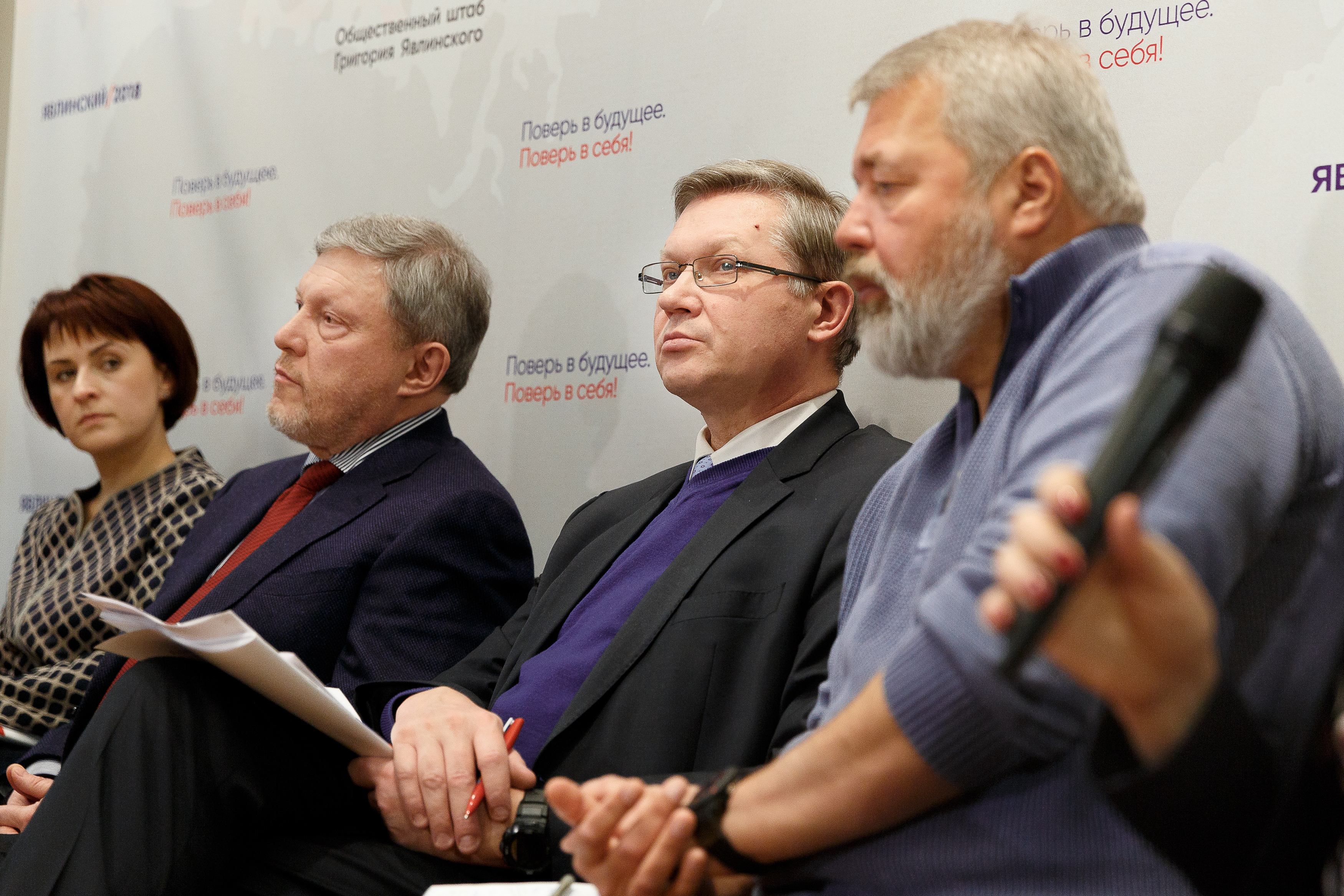 If we have a candidate with an alternative programme, we should support him, Ryzhkov noted. He believes that Yavlinsky's economic programme will enable growth and development. "The situation that Russia is not improving and not developing is related to the dead-end model created by Vladimir Putin and his team – state capitalism, prevalence of the state sector and state monopolies, extreme state regulation, endless checks and pressure on business, private property insecurity and self-isolation of the country after the situation with Crimea," the politician said. "Yavlinsky's programme represents an alternative to the present policy – competitive market economy instead of state capitalism, cut of state regulation and creation of favourable environment for small and medium-sized businesses instead of super regulation, inadmissibility of private property and intellectual rights and end of the international isolation," Ryzhkov added.
According to Petrozavodsk ex-Mayor Galina Shirshina, she supports Yavlinsky for various reasons. "It is important to me that the main idea of Yavlinsky's programme is the wellbeing of people," she said. Shirshina also expressed concern about the situation with business. "The government's statements on the situation with business and the economic development are very unbelievable. I am sure that if Yavlisnky's programme is implemented, Russia may become one of the leading economies," the politician explained.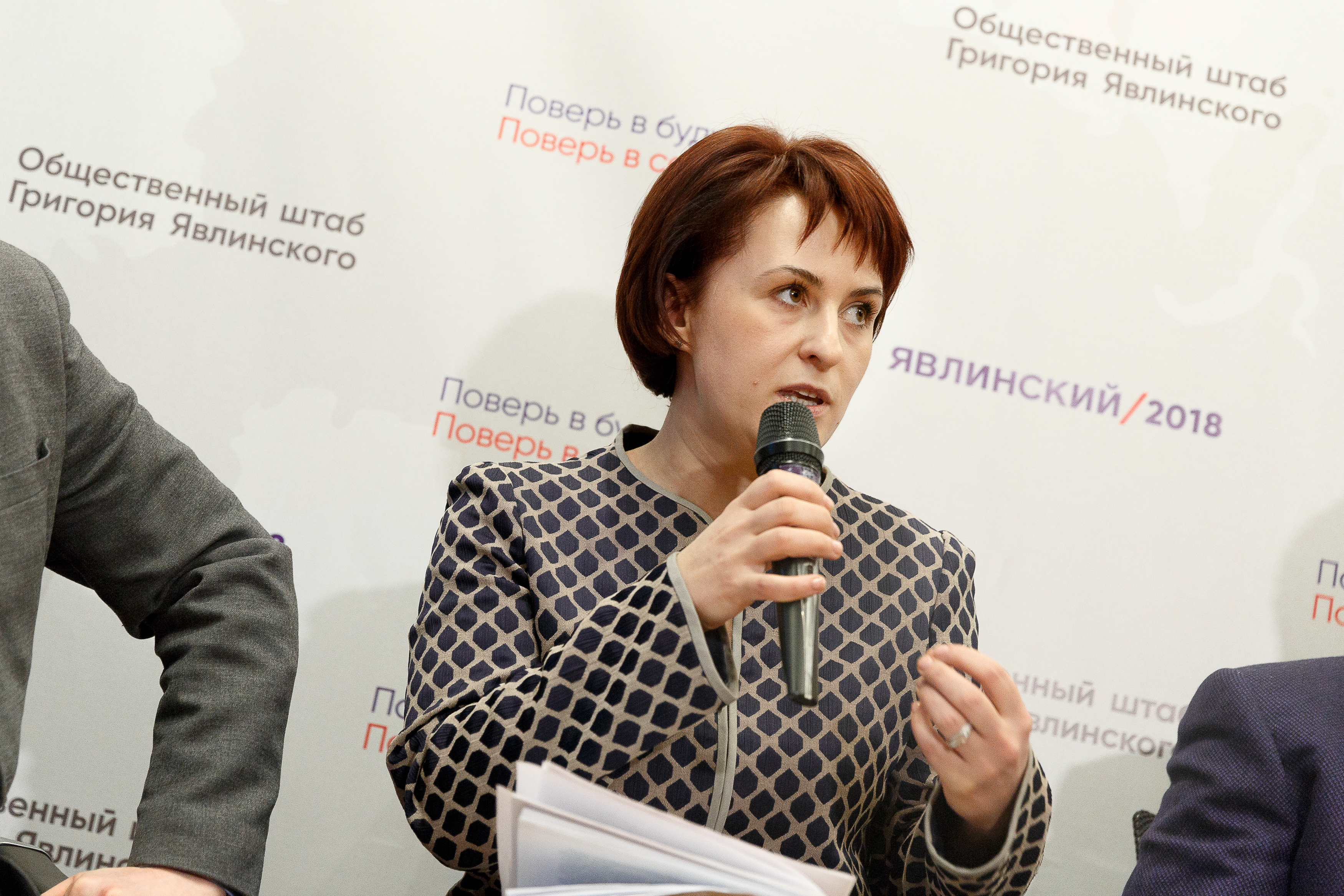 Novaya Gazeta publisher Dmitry Muratov called Grigory Yavlinsky his "fellow soldier" – Yavlinsky and Novaya Gazeta journalists helped releasing hostages during the war in Chechnya and the 2002 Nord-Ost siege.
"When someone is trying to promote patriotism through wars, it leads to serious losses. When the war in Chechnya broke out, it was Yuri Shchekochikhin [Novay Gazeya journalist and Yabloko member] who released the first prisoner of war. However, before the war was officially declared, it was Yavlinsky and his team who courageously did it. Let me remind all hybrid wars supporters that when the officers of the Kantemirovskaya Division were deprived of all documents and sent to capture Dudayev's palace driving 40 tanks, all the tanks burnt and the officers who survived were captured. And our Defence Minister called them "some contract fighters" and denied any connection with them. Then Yavlinsky came there to exchange the prisoners. The aim was not only to exchange the prisoners but to prevent a crazy and dangerous adventure. But the country was anyway involved in the adventure – the Chechen war," Muratov said.
http://www.yabloko.ru/files/u50/muratov.jpg
He also reminded that in 2002, when terrorists seized the Dubrovka Theatre, journalists Anna Politkovskaya and Roman Shleinov were brining water to the hostages. At that time Yavlinsky was negotiating with the terrorists and managed to release several children.
Grigory Yavlinsky thanked the founders of the headquarters for their support saying it was a big honour and responsibility. "I am responsible to hundreds of people – maybe not all of them are well-known at the federal level. There are many teachers, doctors, businessmen, engineers, officers, sportsmen and other people. I am very grateful for their support. I am responsible to all of them," Yavlinsky said.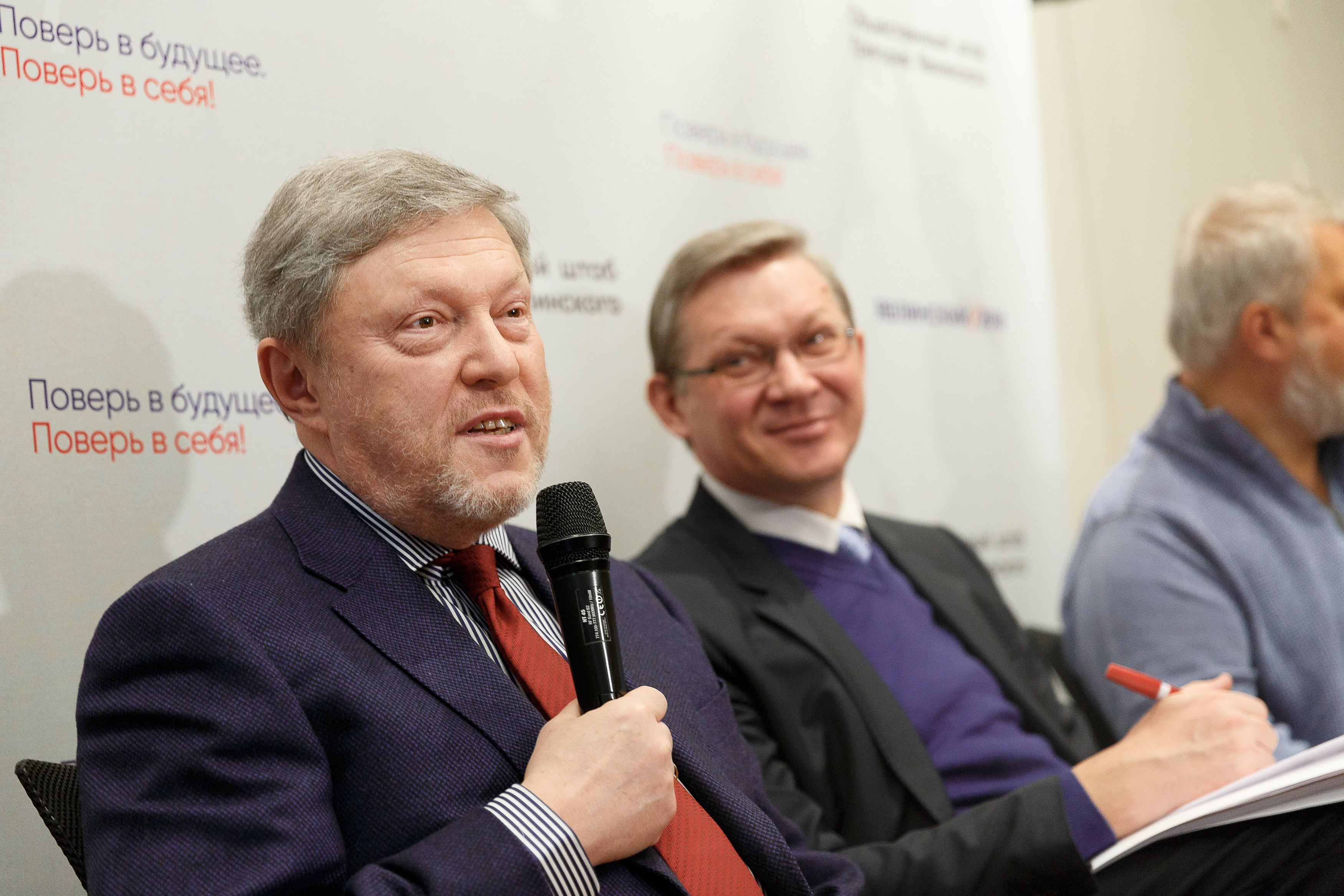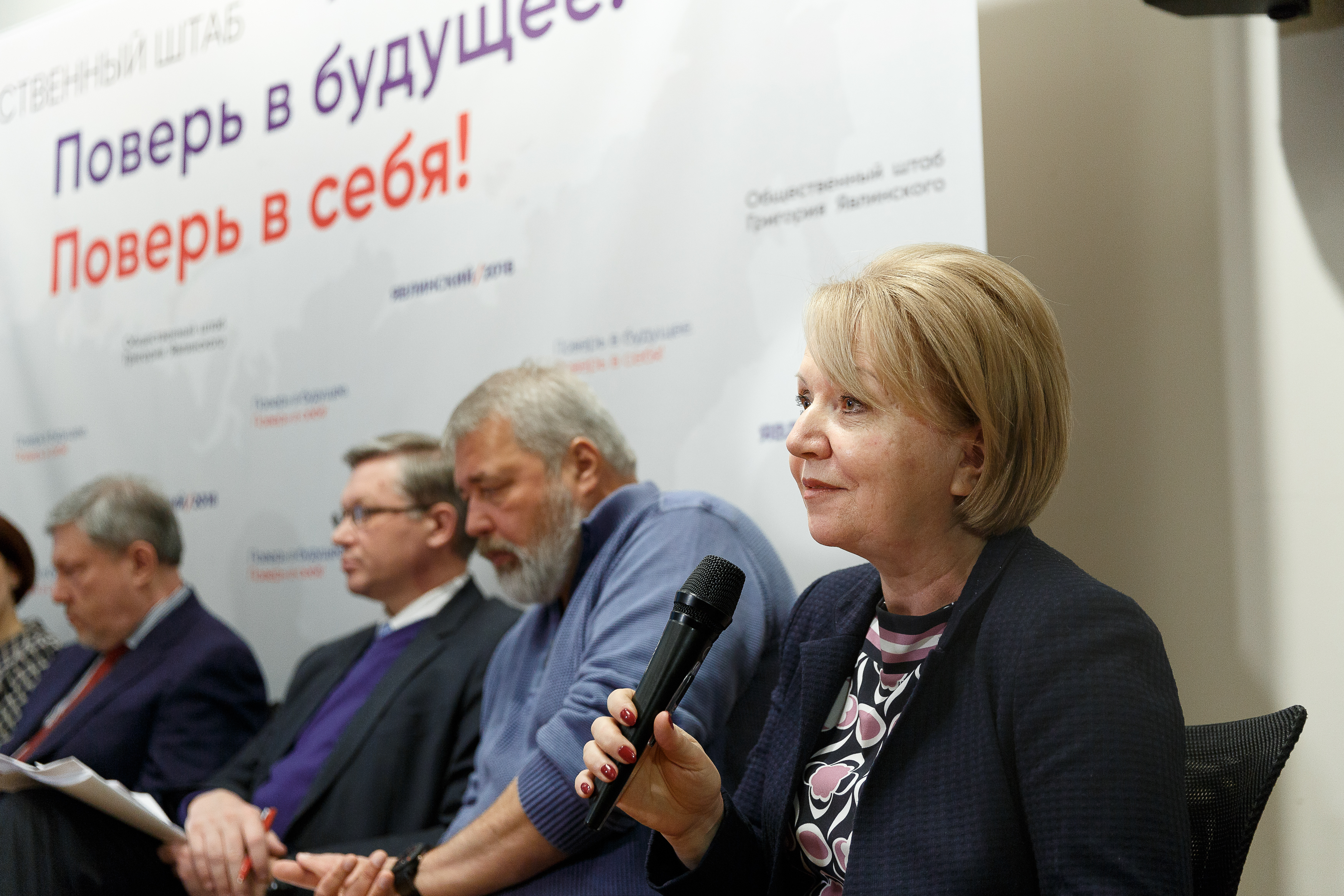 Posted: January 24th, 2018 under Presidential elections 2018.