YABLOKO's human rights defenders discussed with Vladimir Putin the law "On foreign agents" and public control in prisons
Press Release, 09.12.2016
YABLOKO's representatives in the Human Rights Council Natalia Yevdokimova and Andrei Babushkin raised the issues of application of the law "On foreign agents" and public control in places of detention during the meeting with President Vladimir Putin in the Kremlin.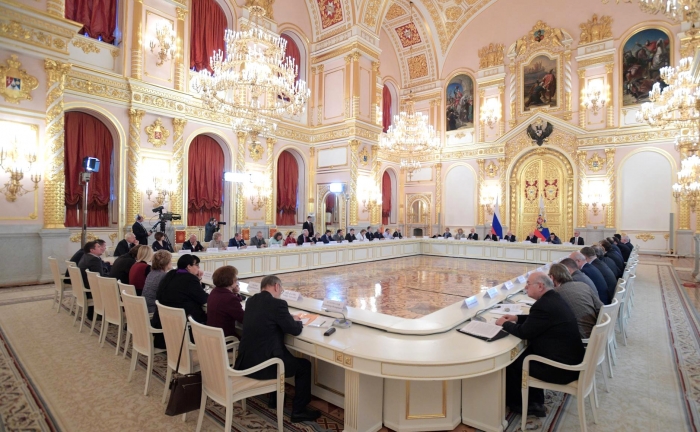 Natalia Yevdokimova, Advisor to the Commissioner for Human Rights in St. Petersburg, spoke about the controversial practices of application of the law "On foreign agents" and urged President to cancel it.
According to the law "On foreign agents", an organisation receiving foreign funding and engaging in political activity [which is interpreted very broadly] may be considered "foreign agent", Yevdokimova said. (It should be noted that the law "On foreign agents" has become a problem for Russian NGOs. Once registered as a "foreign agent" receiving foreign funding, NGOs are subject to additional audits and are obliged to mark all their official statements with a disclosure that it is being given by a "foreign agent". In addition, the words "foreign agent" in Russian have strong associations with cold war-era espionage, and the law has been criticised both in Russia and internationally as a violation of human rights and as being designed to counter opposition groups).
Yevdokimova noted that the law contains an exception for certain types of activities that can not be interpreted as political, specifically support people with disabilities, promoting healthy lifestyles, environment and charity.
However, there are organisations that are engaged in such activities falling under an exception, but nevertheless they were included in the registry of foreign agents, and in general the law is applied selectively: "I would like to compare Levada-Centre and VTsIOM [both engaged in sociological surveys and polling]. The do the same thing and obtain money from the same sources. But one is a foreign agent, and the other is not. Why? Because they do different research? No, they conduct approximately the same kind of research. Thus, the law is applied selectively, and it is bad. I do not want to VTsIOM, God forbid, be registered as a foreign agent. This is not slander and not a complaint. I just want to show that there are some things that require attention," Natalia Yevdokimova told the President.
According to Yevdokimova, such cases are widespread. Despite the serious situation with the spread of AIDS, the register of foreign agents contains already five organisations engaged in this issue.
"They receive foreign funding, but they are struggling against this terrible disease. I think this is simply absurd, not to mention, inhumane," she said.
Natalia Yevdokimova also called on the President to abolish the foreign agents law. Vladimir Putin in response said that he had been getting hold of "foreign instructions" for NGOs, and he was convinced that other countries had been trying to influence the situation in Russia through NGOs.
At the same time, Vladimir Putin agreed that the law enforcement practice and the law "must be revised".
Andrei Babushkin, Board Member of the Presidium of the Presidential Council on Civil Society and Human Rights, touched upon the problem of social control over prisons.
He cited the example of the Colony No 7, where public activist Ildar Dadin was serving his sentence [and was tortured according to different reports]. Two times human rights defenders were refused to inspect the colony. Also they received refusals on their requests to visit other places of detention.
Andrei Babushkin said that social control institutions were very poorly developed in Russia. On the order of the President, the Council prepared a number of amendments intended to make public control irreversible, efficient and boosting public confidence in corresponding authorities and the law enforcement system.
However, the Ministry of Justice considerably edited the amendments and they lost about two-thirds of the content and, moreover, acquired a number of dangerous provisions targeted on the contrary on creation of a barrier to public scrutiny.
The State Duma has been considering the amendments for a year already, but yet they have been adopted in the first reading only. The human rights defenders prepared a new variant of amendments for the second reading and handed them to Sergei Kiriyenko, deputy head of the Presidential Administration. Andrei Babushkin urged Vladimir Putin to support these amendments.
"We are convinced that it is necessary to create barriers on the legislative level so that barriers to prevent [the authorities] from putting obstacles to public control," he said.
Andrei Babushkin also informed President about problems: the amendment on inclusion of the term in the pre-trial detention facility into the term of imprisonment, on pardon and protection of indigenous peoples.
"The institute of pardon is extremely important, and there is a range of people who can not exercise their right to release on parole. They simply will not live up to it," Babushkin said. According to him, the Council could prepare proposals on how to strengthen the institution of pardon.
Babushkin also said that the Council had proposals for preservation of small nations and their culture. Vladimir Putin agreed that this was a very important question. He agreed with the human rights defender and that the issue of control in prisons had to be elabourated.
Posted: December 12th, 2016 under Human Rights, Ildar Dadin's Case.