YABLOKO participated in rally in support of doctors
Press Release, 30.11.2014
The YABLOKO party participated in the march and rally under the slogan "For reasonable medicine" which took place in Moscow. More than 5400 people participated in the action.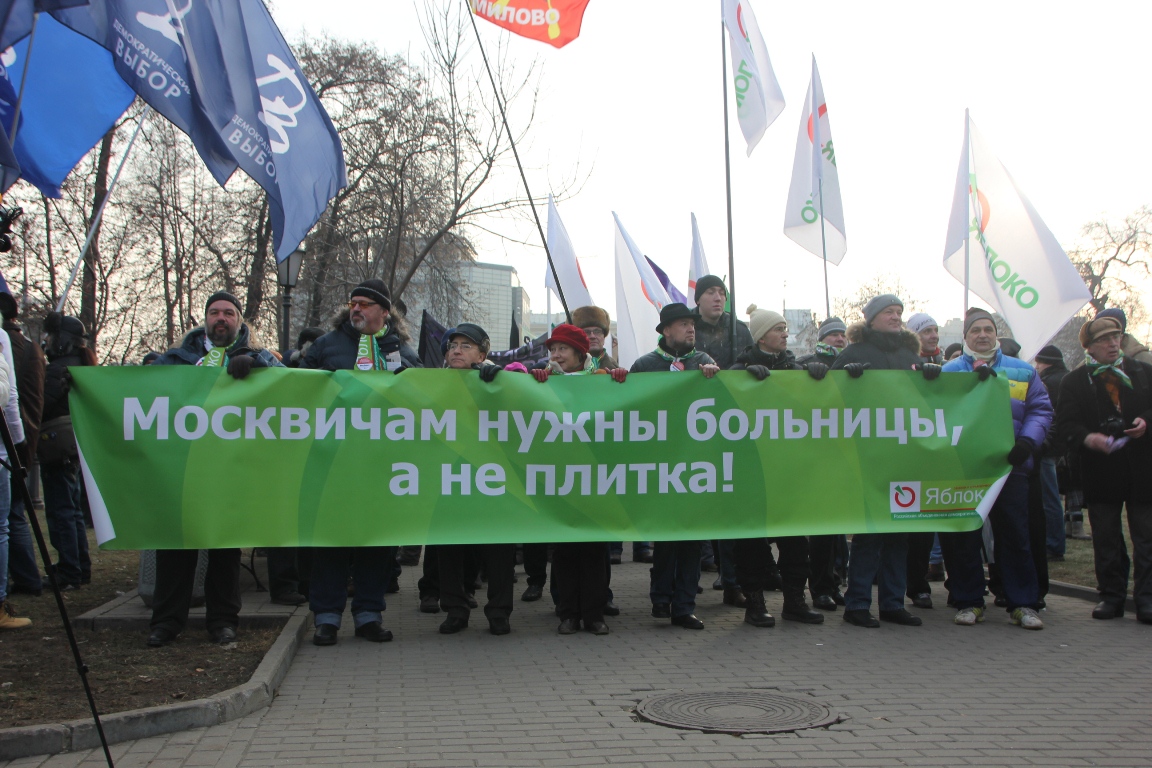 The participants of the march stood against liquidation of reasonable and qualitative state healthcare and against low wages and labour load of doctors.
YABLOKO's column held a banner which said "The Muscovites need hospitals not tile".
"Moscow and federal authorities should understand that the Muscovites aren't joking. The doctors and patients are against the cut of doctors' work places", expalined YABLOKO's municipal deputy Grigory Semyonov.
Galina Mikhaleva, secretary of YABLOKO Political Committee, is sure that the cut of doctors' work places will effect on the patients. "Actually, this healthcare reform will lead to the increase of confirmed invalids amount and increase of mortality rate. It's terrible when the state worries of defence in the first place, not about health and life of the citizens".
Moscow Government adopted "The Schedule of Changes in the Release of the Property" envisaging liquidation of 28 hospitals of 2015. The authenticity of the document was confirmed by Leonid Pechatnikov, Deputy Mayor for Social Policies.
Reduction in the number of doctors has already begun, including those from the hospitals that were not included in this list.
Since January 2015, Moscow will completely abolish budget financing of city hospitals transferring them into "multi-channel" financing (partially from the city budget, partially from the funds of obligatory medical insurance, as well as paid services and other non-government sources of funding).
"The Moscow branch of YABLOKO considers such liquidation of [allegedly redundant] hospitals be a crime against Muscovites and urges city officials to regard construction of modern health care institutions as infrastructure facilities, as health is more important than roads, transport, tile paving and coloured lights on the sidewalks", runs in the YABLOKO statement.
Posted: December 6th, 2014 under Healthcare.