YABLOKO paid tribute to the memory of victims of Stalin's political reprisals
Press Release, 29.10.2016
On 29 October YABLOKO leaders and activists paid tribute to the memory of victims of Joseph Stalin's political reprisals launched in 1938. On the eve of the Day of Remembrance of Victims of Political Reprisals, they took part in the Returning of the Names action.

YABLOKO Chair Emilia Slabunova noted that that was an important day in the Russian history. "Now we are witnessing the attempts to justify Stalin's terror. This can not be justified. In addition to millions of people who were killed, prospects taken from people, the terror also left a "trace in the public consciousness remaining that unlawful decisions can be taken, the law enforcement can be used for the sake of truckling to the authorities and human life can be trampled for no reason," she said.
Slabunova stressed that YABLOKO had been consistently advocating the point of view that "Stalin's crimes should get the due historical assessment". According to YABLOKO Chair, the most important thing was political education so that "every child, every citizen would be aware of these facts".
"Only with the help of the historical memory, the memory of every person, our memory of the names of all the victims, we can turn over this shameful page in our history and will be able to prevent the recurrence of such events," Emilia Slabunova said.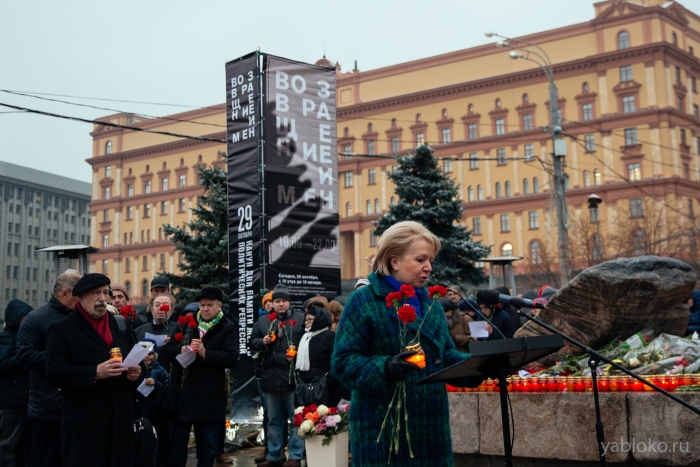 Grigory Yavlinsky, YABLOKO founder and Chairman of the party Federal Political Committee, noted that the political terror, elimination of millions of innocent people was a "crime with no statute of limitations". He stressed that the relevance of the tragedy of the people had only grown for the past 20 years. The proof of this were such political assassinations as the murders of oppositional politician Boris Nemtsov and journalist and human rights activist Anna Politkovskaya. According to Yavlinsky, modern Russia has almost no obstacles for a repeat of the tragedy.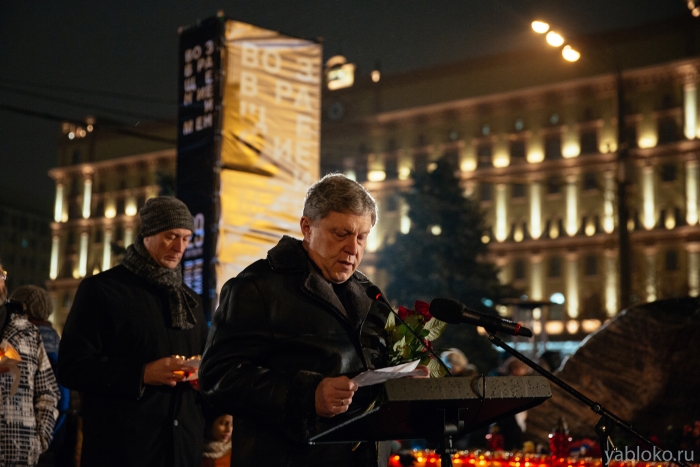 He stressed protection of freedom, human rights, the Constitution, every kind of public control over state reprisal mechanisms and free media should be the elements of protecting the society from political terror.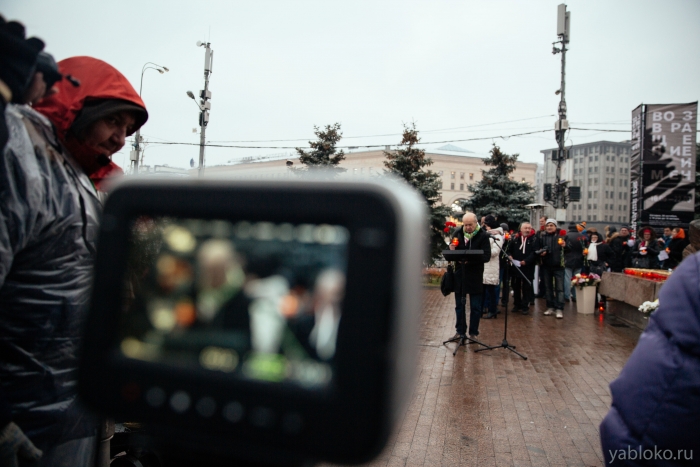 YABLOKO party every year pays tribute to the victims of political repression. This year YABLOKO has prepared a special project "Stalinist Reprisals: What Was It?". The book contains collected memories of witnesses, excerpts from official documents and figures submitted by researchers – all of this should give answers to the questions arising in the society once again.
The action "Returning of the Names", organised by the International Historical, Educational, Human Rights and Humanitarian Society "Memorial", was held this year for the tenth time. Participants of the action, replacing each other, read out the names of the people who were shot in Moscow in the years of the Great Terror. In 1937-1938, over 30.000 people were shot in Moscow. Name, age, occupation, date of execution – thousands of names were voiced on that day in Lubyanka Square. Several thousand people took part in the action.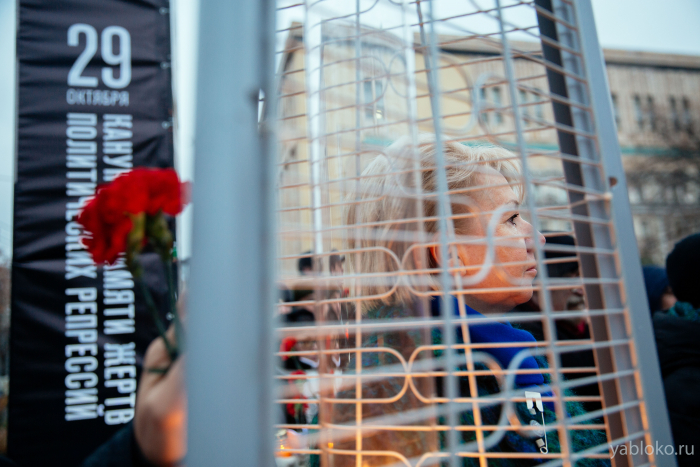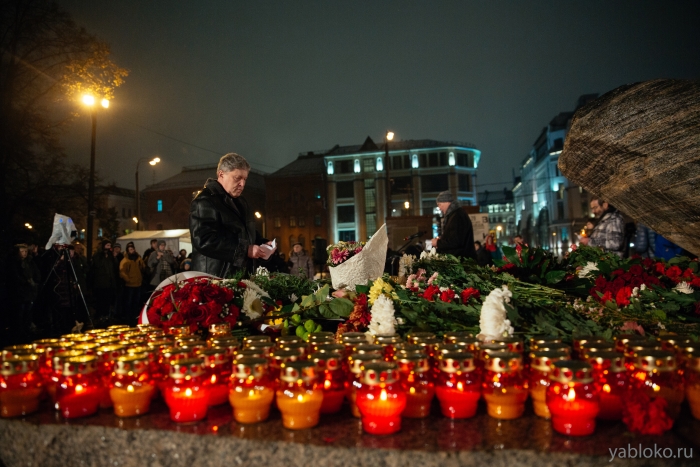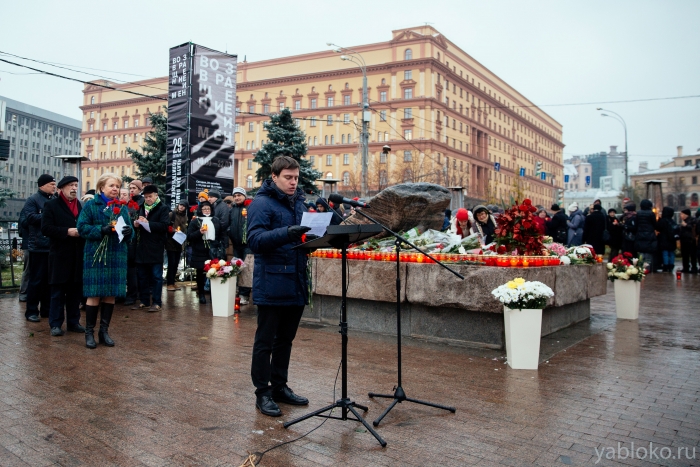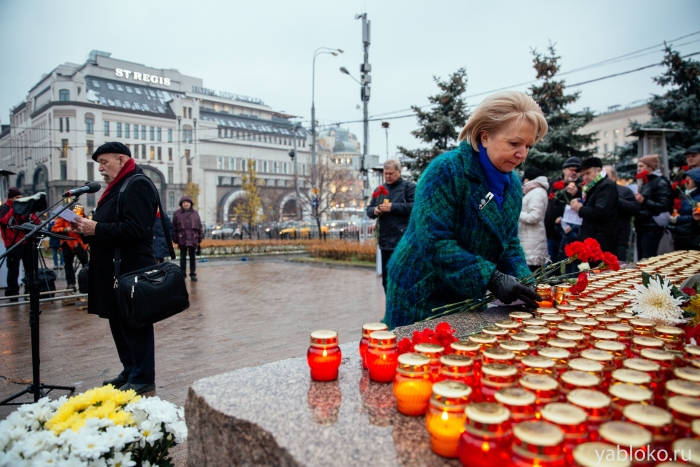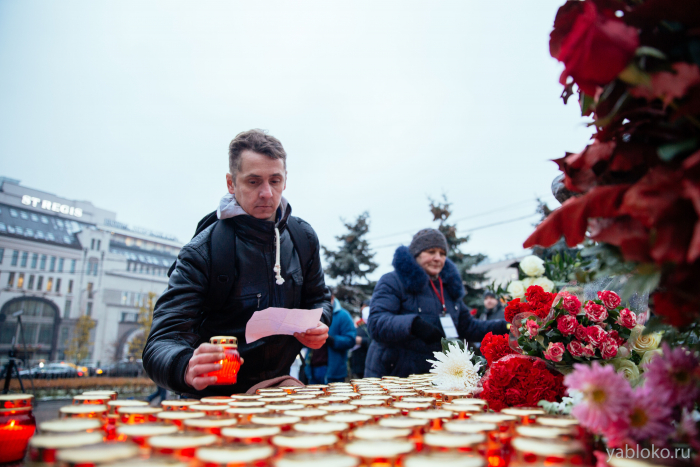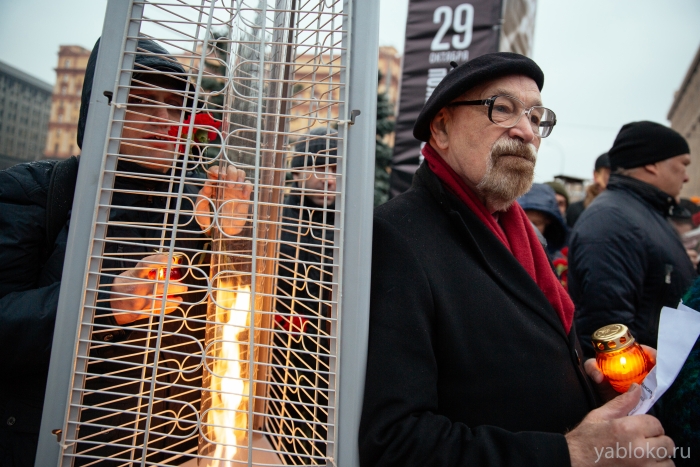 Posted: October 31st, 2016 under Overcoming Stalin's Legacy.