Yabloko leaders summed up the first results of the election day
Yabloko became the second political force in Moscow
Press release, 11.09.2017
Over 50 candidates (updated: 180 candidates were elected) will become deputies of municipal councils in Moscow. Yabloko also succeeded in the elections in the Pskov Region. Yabloko's list was elected to the city parliament of Korsakov, the Sakhalin Region. Yabloko leaders made the following announcements during a briefing in the results of the election day. As the data on the election results continue to arrive, Yabloko leaders told about violations of the elections which the party candidates faced on the election day and about an unprecedented low turnout of voters.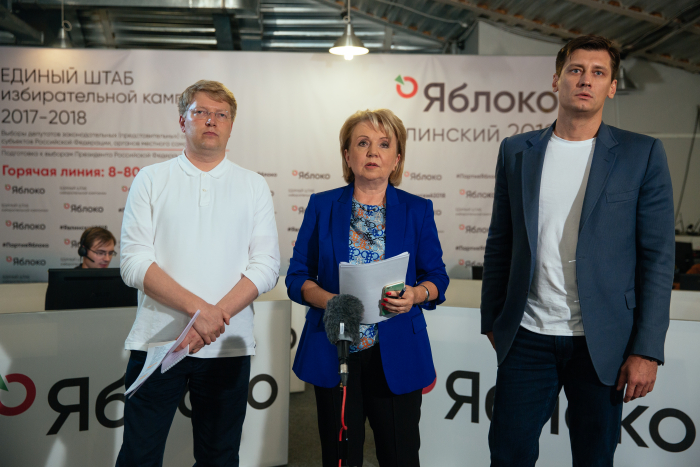 Yabloko Chair stressed that the party did not manage to participate in the gubernatorial elections in the Novgorod, Sverdlovsk and Yaroslavl Regions, where Yabloko nominated Anna Cherepanova, Yevgeny Royzman and Oleg Vinogradov. The authorities used the administrative resource and municipal filter to drop their opponents from the race. "This [the municipal filter] is a means of humiliation of voters and manipulation of municipal deputies," Emilia Slaunova said.
According to Yabloko Chair, the party does not recognise the election results in Barnaul, the Altai Territory, where early election made nearly one third of the voters turnout. Emilia Slabunova also called for resignation of Chair of the city electoral commission, representatives of the executive branch of power responsible for the elections and the governor of the region.
Emilia Slabunova emphasized that the turnout of voters in Moscow was unprecedentedly low in Moscow (about 15 per cent). "It means that all the levels of power made ever effort to prevent the voters from learning about the elections," Slabunova said. Yabloko also called for the resignation of Valentin Gorbunov, Chair of the Moscow Electoral Commission.
Yabloko Deputy Chair of the party singe election headquarters Nikolai Rybakov told about the violations reported by Yabloko's candidates and observers including the manipulations, which have never been used before. There were very large lists of home voters and very often people were not informed that they were put on the list in Pskov and Saratov Regions and in the Republic of Tatarstan.
Chair of the Moscow branch of Yabloko Sergei Mitrokhin said that Yabloko activists would continue protecting Moscow despite the election results. He also expressed hope that the number of mandates that the deputies would receive would be sufficient to overcome the municipal fitler in the mayoral elections the following year.
Independent politician Dmitry Gudkov [Gudkov's election headquarters and Yabloko carried out a joint campaign] said that Yabloko became "the second political force in Moscow" and the only force, "which is able to resist [Moscow Mayor] Sobyanin, and Putin and his electoral commissions and cheating of voters about the election date".
Posted: September 11th, 2017 under Elections, Local and Municipal Elections 2017.