Yabloko launched an alternative national strategy to promote women's interests
Press release, 26.04.201
Yabloko launched an alternative national strategy to promote women's interests. Party experts claim that the current strategy, which was adopted by the government in March, has a declarative character and contains no specific measures to promote gender equality. Yabloko will forward the alternative strategy, the bills developed by the party and the critique of the current strategy to the government by the end of spring.


The alternative strategy was developed on the basis of Yabloko's Gender faction programme. It was presented by head of the faction Galina Mikhaleva.
One must create a state mechanism to provide equal rights and opportunities for men and women in order to achieve gender equality. Yabloko proposes to appoint women's rights ombudsmperson on the federal and regional levels as well as to establish a Commission on gender equality affiliated with the Public Chamber of Russia.
The party claims that the number of women in state bodies must be increased. According to the amendments to the electoral legislation proposed by the party, a candidates list should contain at least 30 per cent of women in order to be registered. Yabloko also suggests implementing state programmes to support small and medium sized businesses headed by women. One of the party's proposals is to introduce professional education and retraining for women who are on maternity leave and create part-time jobs.
A law introducing responsibility for sexual harassment at work must be adopted. Russia also needs a law on the prevention of domestic violence. Moreover, the party proposed measures to support fatherhood. Yabloko also stressed that abortions must not be banned.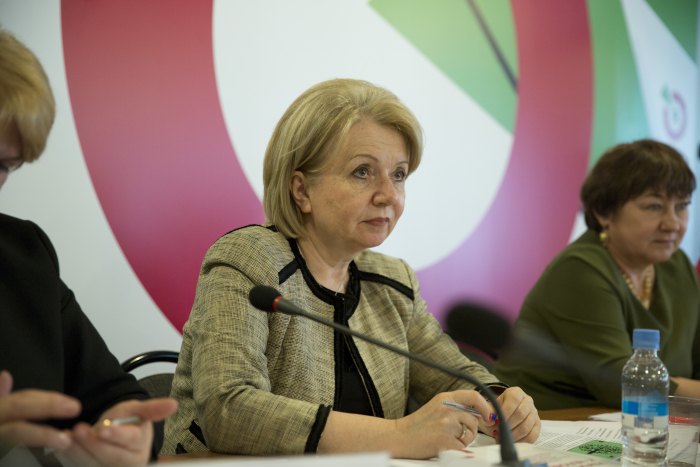 According to Yabloko Chair Emilia Slabunova, women's real problems were not reflected in the government's strategy. It shows the lack of a purposeful policy and the necessary institutional mechanisms, which would enable to solve these problems.
Head of the Gender faction Galina Mikhaleva said that it is was not a coincidence that the party considered the government's strategy: Yabloko is the only registered party in Russia, which has a gender faction.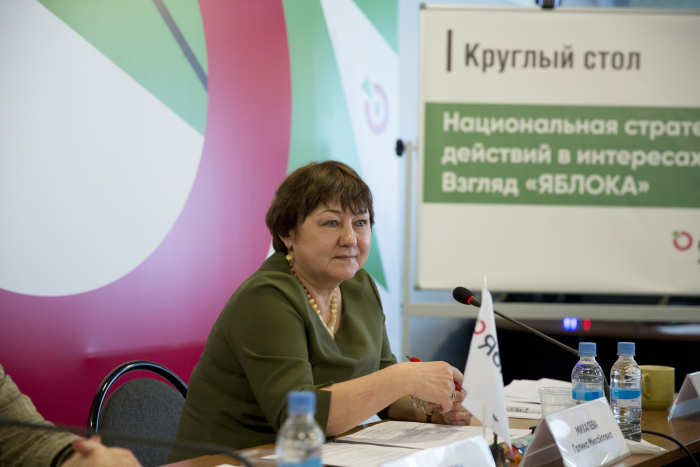 President of Women's clubs Association Natalia Ivanova expressed concern that the problems that women migrants face must be included in the strategy.
Representative of the Sisters sexual assault recovery centre Natalya Timofeyeva stressed the current strategy did not contain proposals on rehabilitation of women who went through violence and did not touch the topic of economic independence of women.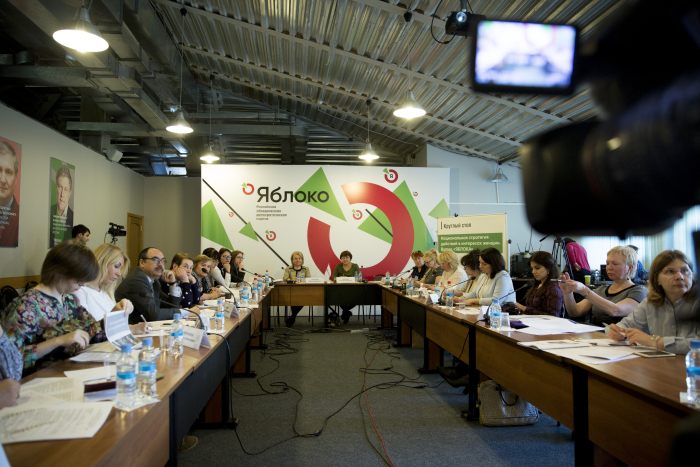 Yabloko plans to develop bills granting guaranties of equal rights and opportunities for men and women. They will be introduced in the regional parliaments of Karelia, St. Petersburg, Pskov Region and Kostrom Region where Yabloko has factions.
Yabloko is ready to consolidate the efforts of experts, representatives of women's rights groups and NGOs, trade unions and journalists in order to change the state policy concerning gender equality.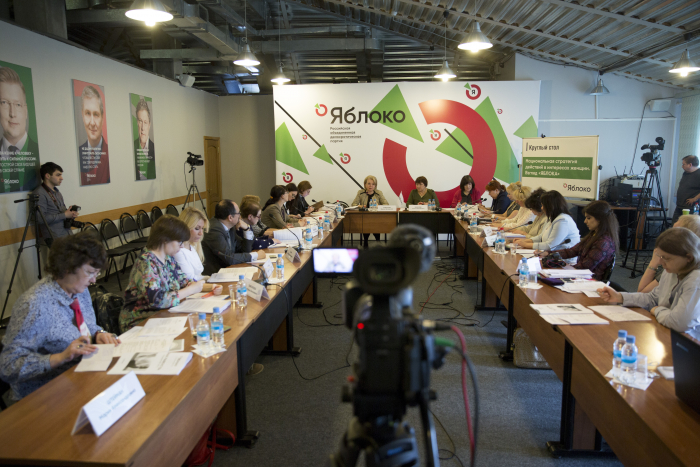 Posted: April 26th, 2017 under Gender Faction, Human Rights.