Yabloko joins a ceremony to commemorate Soviet political prisoners in Chelyabinsk
Press release, 31.10.2018
On 30 October, the Day of Remembrance of Victims of Political Reprisals, Yabloko activists in Chelyabinsk participated in the Returning the Names ceremony. The memorial ceremony takes place every year to commemorate victims of the Great Terror.
The participants of the action, one after another, read out the names of people executed in the Chelyabinsk Region.
Yaroslav Shcherbakov, Chair of the regional party branch, addressed the audience:
It is a very long list and it does not become shorter as the time goes. It is painful to think that there are real people behind these archives. There were ordinary people – students, workers, peasants, engineers – and their lives were ruined. People of different ages and nationalists became victims of the repressive machine.
According to the archive, 37,041 people were imprisoned and 11,592 people were executing in the Chelyabinsk Region over the period of Stalin's repressions.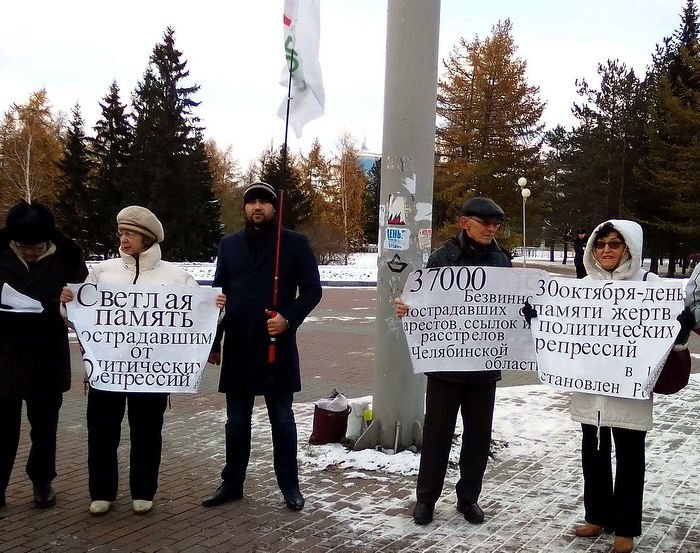 Yabloko took part in the Returning the Names memorial action across Russia. Grigory Yavlinsky, Chair of Yabloko Federal Political Committee, said that Russia's current political system could easily turn towards the developments of the 1930s. "The current political system – taking its logic, methods and approaches into account – is the direct heir of the regime of terror and is a step away from becoming a political mechanism of terror itself."
According to Yabloko Chair Emilia Slabunova, "if society preserves memories of the developments of the 1920-1930s, a similar scenario will be prevented". She also said that the government must make a legal and political estimate of Stalin's crimes.
Posted: November 1st, 2018 under Human Rights, Overcoming Stalin's Legacy.