YABLOKO honoured the memory of the Second World War heroes
Press release, 08.05.2015
On the 70th anniversary of the Victory over fascism YABLOKO leaders and supporters of the party paid tribute to the heroes of the Second World War by laying wreaths and flowers at the Eternal Flame at the mass grave at Preobrazhenskoye Cemetery in Moscow.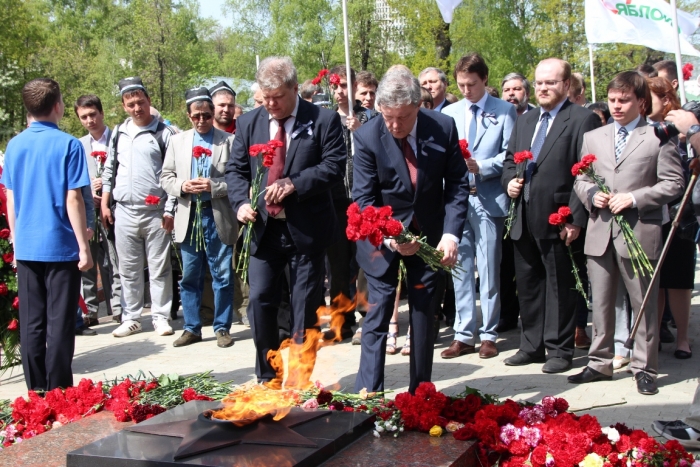 Thousands of Muscovites – soldiers and officers who died during the Second World War – are buried here. Preobrazhenskoye Cemetery has become a traditional place for YABLOKO for paying tribute to those fallen in the war. YABLOKO activists have been coming here for several years already.
The ceremony was attended by YABLOKO Chairman Sergei Mitrokhin, YABLOKO founder Grigory Yavlinsky, members of YABLOKO Political Committee Sergei Ivanenko and Alexei Arbatov.
Sergei Mitrokhin said that YABLOKO had been laying flowers at Preobrazhenskoye Cemetery, where the soldiers who had died in the first years of the war were buried. "It is a great day, the day of victory over fascism. We will always remember and celebrate it. We believe that it's our duty to celebrate the victory day here by paying tribute to those who had assumed the worst blows," he said.
Mitrokhin said that the activists did not wear St. George's ribbons, instead they pinned the ribbons which look like those of For Courage medals. "It was a real battle honour, not a general's one but for an ordinary soldier. We have nothing against St. George's ribbon, it was invented in the 18th century, but today it has become a symbol of chauvinism, aggression and political deadlock, " he noted.
YABLOKO leader emphasized that "the official ceremony of Victory celebration conducted by the authorities is full of fraud and attempts to use the World War II as strange PR, justification of international aggression which has become fashionable within the authorities who are trying to create a connection between the World War II and today's foreign adventures. Our leadership managed to even embroil two great nations – Russians and Ukrainians – who strangled against fascism shoulder to shoulder".
Grigory Yavlinsky said that the most important things for today were a minute of silence, the memories of those who have given their lives, their children and their nearest and dearest for the victory. "All of us are the children of the great nation who gave millions of lives to save our country, to save us as a state, to free Europe from nazism and true fascism. The price which has been paid for our today's life, for our future is so high and tragic that it demands from us to be honest, intelligent and strong people and understand the difference between the truth and lies, between history and myths, between propaganda and reality. We can count on provision that very life, for which millions of our fellow citizens had sacrificed, for our children and grandchildren only when we are free from lies, hatred, xenophobia and nazism".
Alexai Arbatov emphasized that one of YABLOKO's main aims is to draw a distinct line between nationalism and patriotism and protect this line.

Posted: May 13th, 2015 under History.