YABLOKO. Elections. Live
Press release, 18.09.2016
00:44 MSK. Deputy Chariman of YABLOKO Nikolai Rybakov noted predictability of the outcome of the vote, "Well, in my constituency chairmen of local electoral commissions ran to territorial electoral commissions [to get orders from there] without issuing copies of voting protocols. Everything is as usual".
23:52 MSK, the Moscow region. Members of local electoral commissions with a deliberate vote are withdrawn from local electoral commissions at Precincts Nos 1063, 1070, 1080, 1094, 1097, 1127, 3588 and others. This is done without court decisions, police are involved in the illegal withdrawals.
23:20 MSK briefing by Deputy Chairman Nikolai Rybakov and members of the Federal Political Committee Boris Misnik and Alexey Arbatov.
22:48 MSK, Dagestan. Chairs of two electoral commissions (Precincts No 1008 and 1009) refused to give observers the protocols, locked the room and then escaped through a secret door.

22:27 MSK, Engels, the Saratov region. Precinct No 1778 , an observer reports that the difference between counting of votes by observers and by the electoral commission amounts to 300 people.
21:32 MSK, Moscow. Precinct No 1857: section of the observer recorded stuffing of ballots for the Fair Russia party. A pack of 19 sheets. An observer wrote a complaint. Precinct No 3005: a pack of ballots was lost during counting of the votes. Electoral commission members try to find it.
20:55 MSK, Moscow. Precinct No 1844: bulletins that had to be invalidated were not invalidated; bulletins with tick marks found.
20:45 MSK, Dagestan. Precinct No 1105: police removed an observer, explaining it by the fact that he had no casting vote. Precinct No 1152 was not closed in time, the electoral commission explained it by the fact that not everyone voted, not all arrived.
20:43 MSK, Kabardino-Balkaria. Chairman of the local commission No 314 Mr Balkarov does not allow YABLOKO candidate to participate in the counting of ballots. The commission locked the door to the room.
19:57 MSK, St.Petersburg. A voter (polling station No 1619) found three "dead souls" in the book, all registered to his home address.
19:48 MSK, St.Petersburg. A voter who came to Precinct 1630 around 19:00 found out that his apartment was attributed to two unknown persons who voted as residents of this apartment. In response to the voter's outrage members of the electoral commission crossed out these lines in the list together with the signatures of the receipt of ballots. But the ballots received by these "new residents" were, apparently, left in the urn.
19:44 MSK, St.Petersburg. Precinct 2183: the electoral commission refused to issue a certified copy of the protocol on the results of the election to the State Duma of the Russian Federation, they hand out only a protocol for a single-mandate constituency. The Chair of the commission said that did not issue the protocol because the member of the commission with a casting vote was nominated by the candidate [rather than a party].
19:22 MSK, the Republic of Tuva. Precinct No 2: counting of the votes has not started, in spite of the fact that it is was pas 23:00 local time in Tuva.

19:15 MSK, YABLOKO candidate in the Sverdlovsk region Olga Vlasova reports of massive fraud in the village of Kedrovka. People registered in other precincts were handed out ballots for the single-mandate constituency instead of ballots for the parties. Vlasova state that there are at least 200 of such ballots in the urns.
18:43 MSK, Moscow. Chairman of Electoral Commission No 1991 took the ballots outside the polling station. What did he do with them was unclear.
18:28 MSK, Ryazan. Precincts No 979, 960, 865: marks by the names of voters are detected. In practice, such marks are used solely for voting instead of real voters.
18:24 MSK, Voronezh. Precinct 1444: head physician of a medical institution forced his employees to vote. Precinct No 1171: people voting with absentee ballots get ballots not only for parties but also for single-mandate constituencies which is a violation.
18:00 MSK. Chairman of Moscow YABLOKO Sergei Mitrokhin complained to the Central Electoral Commission (CEC) about violations at the polling stations in Moscow. The document is forwarded to the Chair of the CEC Ella Pamfilova and Chairman of the Moscow City Electoral Commission Valentin Gorbunov.
17:39 MSK, Balashikha, the Moscow Region. Precincts Nos 57, 58 and 59: CCTV cameras not functioning allegedly due to the fact that the precincts are located on the territory of a military unit. However, civilians also vote there. A complaint to the Territorial Electoral Commission filed.
17:18 MSK, the Nizhny Novgorod region. Precinct No 2354: four persons were registered for voting at home, the staff of the electoral commission took 100 ballots for voting at home.
17:17 MSK, the Nizhny Novgorod region. Polling station No 2362: voters are offered to vote for the ruling United Russia for 300 roubles. Several persons stand in front of the polling station and distribute leaflets with a call to vote and record the name of the voter in the back of the paper. After the vote, votes can exchange the leaflets for the money.
16:49 MSK, Moscow. Precinct No 643: voters came to the polling station to find out that someone had already voted instead of them.
16:36 MSK, Moscow. Precinct No 651: the military, who in addition to ballots for the State Duma elections were also given the ballots for the municipal elections, the electoral commission had no right to do this, as military conscripts are registered in other regions. The disputed ballot boxes were sealed and the new ones set. Probably the urns with incorrectly issued ballots will be annulled.

16:21 MSK, Moscow. Precinct No 231: residents from 145 apartments are missing in the register of this precinct. So it goes.
15:42 MSK, St. Petersburg, Precinct No 532. Eight ballots stolen when issuing ballots for voting for the Legislative Assembly.
15:22 MSK Exactly the first briefing by YABLOKO will be held at 15:30. Party Chair Emilia Slabunova will tell about the elections and violations recorded by observers. A live webcast is in our Facebook page.
15:21 MSK, the Ulyanovsk region: free tickets for the concert organized by United Russia are distributed at polling station No 3607.
15:12 MSK, Moscow. Stuffing of ballots detected. Kirill Goncharov, candidate of Moscow YABLOKO, said that three people stuffed a few packs of ballots at polling station No 1841. Two of them were arrested.
15:10 MSK, Rostov-on-Don, Precinct No 1958, Komsomolskaya, 57. Members of the Electoral Commission stuff ballots.

15:08 MSK, Sochi, Precinct No 46. Stuffing of ballots prevented. Chair of the electoral commission and its staff accompanied a person with a bundle of fraudulent ballots from the polling station, and the latter fled the scene.
14:59 MSK, Kursk. Police conducts inspection of a car near polling station No 104. Voters handed coupons for 500 roubles to the persons sitting in the car. The coupons had to be exchanged for their vote for the "correct" party. Voters got the coupons the day before.
14:47 MSK, the Leningrad region. Polling stations in Sertovolo, Chyornaya Rechka, Bugry and Agalatovo: a large number of military observed by the polling stations (up to 1.500 people). They stand by the polling stations in columns. It is impossible to check the lawfulness and validity of their vote.
14:38 MSK, the Republic of Tyva. A pack of fraudulent ballots stuffed into a transparent at polling station No 88. Observers have made a complaint.
14:10 MSK, Moscow. Precinct 1521: campaign materials hang in the premises of the polling station on the voting day which is a violation. Chair of the Commission said, "No comments".
14:08 MSK, the Orel region. Police detained a bus with Moscow plate numbers commuting from one polling station to another taking people with absentee ballots.
14:01 MSK, Saratov, Precinct No 100. Chair of the electoral commission has just tried to withdraw our commission member with an advisory vote under the pretext that the YABLOKO party "was not registered as a party'. It is not a joke. Here comes the video.
14:00 MSK, Ryazan. Polling station No 960 in Dashkovo-Pesochnya. YABLOKO representatives found the signs of preparation for fraud. Raisa Garbuzova, electoral commission member, puts some marks by voters' names. In practice, such a mark is used solely for voting instead of voters. YABLOKO files a complaint.
13:53 MSK, the Rostov region. Stuffing of about 100 ballots detected at polling station No 1817.
13:51 MSK, Moscow. Precinct No 993. Only United Russia candidates are listed in the information placard at the polling station. Looks like other candidates simply do not exist.
13:38 MSK, Moscow. Emilia Slabunova, YABLOKO Chair, voted.

13:13 MSK, Moscow. Precinct No 82 – 40 people at a time voting by absentee ballots. Typical for Moscow and for Russia in general.
13:11 MSK, Rostov, Precinct No 1835. Rector of Rostov University offered students to take absentee ballots and vote several times. The information was released by a student.
12:54 MSK Stuffing of fraudulent ballots detected! The Krasnodar Territory, South Russia, Precinct No 2602. Video recording done, YABLOKO will file a complaint.
12:45 MSK Moscow, Precincts No 1389, 926 election carousels detected [a bus with the same 'voters' takes these people from one precinct to another, fraudulent 'voting' is done is favour of the ruling party. The Vladimir region, precinct No 458 – the same thing. About 15 military men are taken to the precinct by bus. (Plate number sign 5862 UA (region 12).
12:39 MSK Moscow region, Precinct No 2669. The list of voters "intending" to vote at home was for some reason submitted to the register by a representative of the ruling United Russia party, but not by the electoral commission. Our candidate filed a complaint, but the electoral commission of the precinct refused to accept it.
12:35 MSK Lev Schlossberg, who is among YABLOKO top ten candidates, voted at home in Pskov.

12:26 MSK 16 people ride in Moscow on a gray Toyota pickup with a sticker "Morton" and vote at different precincts with absentee voting certificates. Their names are already known, observers at the precincts warned.
12:22 MSK member of the electoral commission with an advisory vote from the YABLOKO party (Precinct No 515) is prohibited to participate in the trip with an urn for home voting to a psychiatric hospital on Arsenal Street in St. Petersburg, 200 people should vote there.
12:11 MSK Voters complain of a huge queue at Polling Station No 82 (Moscow, Centre, Kondratievsky Pereulok). The queue consists of people intending to vote with absentee ballots – 60 people in total. According to reports, the members of the electoral commission did not expect this.
12:06 MSK St. Petersburg, Precinct No 548. Mass vote by the military who were not included in the list of voters, without any proof of registration in the military unit. YABLOKO's authorized representative Sergei Shanko and Natalia Evdokimova, member of the Presidential Council for Human Rights, wet to the precinct.
12:02 MSK Carousel – precinct No 759, Moscow. A lilac bus number 791 21 came full of people voting with absentee ballots.
12:00 MSK, Moscow. Grigory Yavlinsky voted in the precinct in Krylatskoye.

11:30 MSK Nikolai Rybakov, YABLOKO Deputy Chairman and one of top YABLOKO candidates, voted at his precinct in St. Petersburg. "I Voted for the YABLOKO party and @iralaskateleva – good luck to all of us!" he wrote on Instagram.

11:22 MSK Member of the electoral commission reports on the carousel at Precinct No 1158 (Perovo, Moscow). Voting by absentee ballots, the 'voters' are brought by bus (number 197 m859tu) and minivan (number 71 m345mt). Approximately 80 people.
11:12 MSK at Precinct No 438 voting with absentee ballots detected – about 100 people.
10:27 MSK Moscow again. Precinct No 1566 – voters are instructed to vote for the United Russia party. Police asks voters every hour who has voted and registers the voters' data. An employee from the local authority supervises the voting.
10:20 MSK The staff of the YABOKO head-quarters in Moscow were going to vote with absentee ballots at the nearest polling station No 40 (Bolshaya Ordinka 15), but they could not do it because of a huge queue of people voting with absentee ballots. Judging by the signals from the different districts of Moscow, the situation is now typical for Moscow.
9:51 MSK Moscow observers report. Precinct No 165: over 50 people have voted with absentee ballots, most people come from the city of Podolsk, the Moscow Region. Precinct No 2718: about 60 people voting with absentee ballots. Precinct No 31, 'voters' arrived by bus (S54On34) and vote with absentee ballots, 50 people have voted already.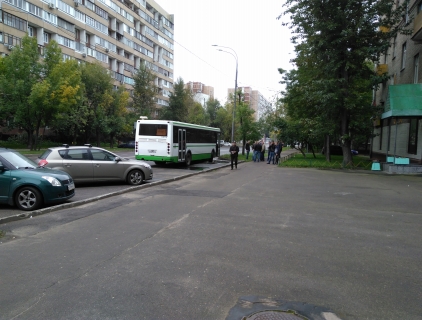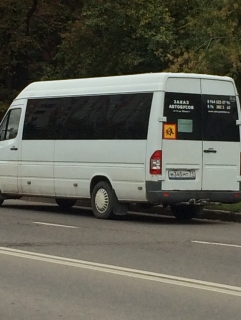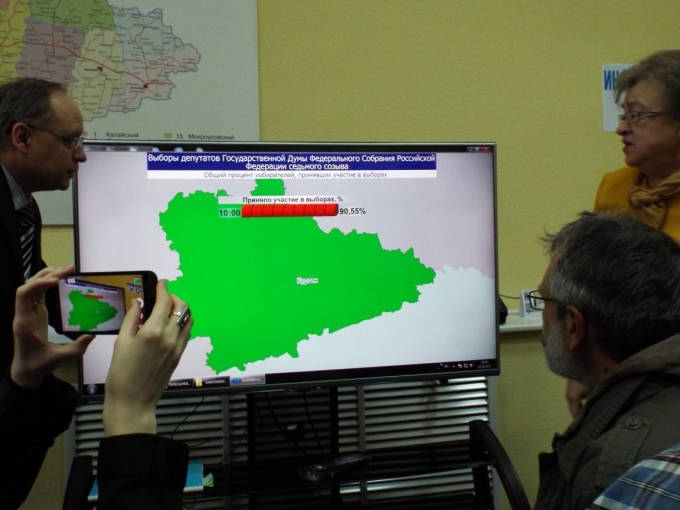 8:56 MSK Dagestan. Several electoral commissions do not allow YABLOKO's commission members with an advisory vote to participate in the work, under the pretext that it was necessary to register three days in advance [which is not true].
8:41 MSK Barnaul, the Altai Territory. A carousel stuffing scheme for the United Russia party is observed. According to Vladimir Ryzhkov, one the top ten YABLOKO candidates, students who do not know that it is a criminal offense participate in the carousel voting. They were promised a pay from 1.500 to 4.000 roubles per a day of stuffing for United Russia and its candidates. "We catch them, hand them over to the police, they are arrested. Excellent work by [observers] from Fair Russia, YABLOKO and Golos. Police is working badly, " Ryzhkov said. He published a video on his Facebook page demonstrating instruction of counterfeiters by their bosses, adding that Ella Pamfilova, head of the Central Electoral Commission, was already informed of this.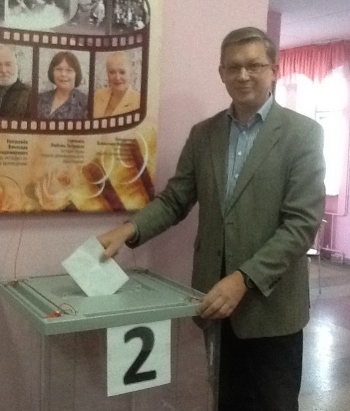 7:35 MSK, Kemerovo. According to head of the regional branch of YABLOKO, chairman of Precinct No 249 offered a bribe to the representative of the party for cooperation, threatening otherwise not to allow YABLOKO representatives to the electoral commission or remove them from the precinct. The circumstances of the incident are being investigated.
6:47 MSK, Barnaul, Altai. One the top candidates of YABLOKO Vladimir Ryzhkov voted at his precinct in Barnaul. "Good will win! Look what a sunny day we are having today in Altai! " he wrote on his page on Facebook.
5:37 MSK, Kemerovo. YABLOKO members of electoral commissions with an advisory vote were not allowed to the polling stations, under the pretext of their absence on the lists. According to the representatives of the regional branch of YABLOKO, three such cases were reported. YABLOKO filed a complaint to the Territorial Electoral Commission and to the prosecutor's office. Also, there were attempts not to allow YABLOKO members of one of the electoral commission in Izhevsk to come to the precinct.
5:22 MSK, Moscow. Sergei Mitrokhin, head of YABLOKO's Anti-Corruption Policy Centre, detected that heads of one of the housing and utility services companies in Moscow demanded from the employees to get absentee ballots and hand them to their bosses for compensation of 1,000 roubles. Otherwise, the workers were threatened with dismissal. The information comes from one of the workers. His testimony was videorecorded and sent to the District Electoral Commission.
5:08 MSK, Petrozavodsk, Karelia. On 17 September, Galina Shirshina, ex Mayor of Petrozavodsk and one of the top YABLOKO candidates, received phone calls from young men and women who were trying to find out where to vote and where bring their friends and families so that to get money for the voting. Shirshina found out that her phone number was given to these people at a meeting held on Friday night. Young people came to the meeting after reading an advertisement in the group "Find a Job. Petrozavodsk " where the readers were offered 'easy' money. The meeting was held by a man called Vladimir, who said that the YABLOKO party was allegedly ready to pay money for the votes. He gave Shirshina's phone number, saying that it was the phone of YABLOKO headquarters in Petrozavodsk. Shirshina regarded the incident as a provocation and said that she intended to go to the police.
4:31 MSK, Pskov. On 17 September, a 'day of silence', YABLOKO activists found out that some people were bringing allegedly YABLOKO's leaflets to the warehouses in the stadium "747" in Pskov. According to Lev Shlosberg, one of the candidates from YABLOKO's top ten, "there was a 90 per cent certainly that these were YABLOKO's election campaign leaflets, also leaflets from other two oppositional parties were seen in the piles brought to the warehouses". He took these leaflets from the people bringing them to the warehouses and saw that he his name was indicated as the customer of this action.
Posted: September 19th, 2016 under Elections, State Duma Elections, State Duma Elections 2016.