YABLOKO commemorates anti-fascists Stanislav Markelov and Anastasia Baburova
Press release, 19.01.2017
YABLOKO leaders and activists laid flowers at the site where lawyer Stanislav Markelov and journalist Anastasia Baburova had been murdered by neo-Nazis eight years ago.


Every year party activists bring flowers and candles at the site in order to commemorate the murdered anti-fascists.
"We will always remember Stanislav Markelov and Anastasia Baburova. The wound in our heart does not heal and our indignation is not over. Those who are trying to revive the neo-Nazi ideas and resist the truth should realise that their activity will be opposed," YABLOKO Chair Emilia Slabunova noted.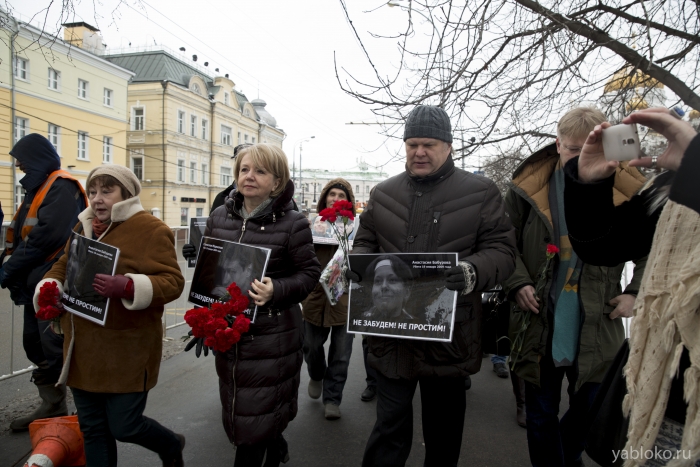 According to Sergei Mitrokhin, Moscow YABLOKO Chair, the murder of the anti-fascists "is not an ordinary political assassination, it is an impudent, blunt, abominable challenge, which the fascists issued to all the civil society representatives, all the democratic forces and all the forces in general that are seeking a better life for our country".
Galina Mikhaleva, Moscow YABLOKO Deputy Chair, stressed that on that day YABLOKO commemorated all the journalists and lawyers who lost their lives doing their professional duty.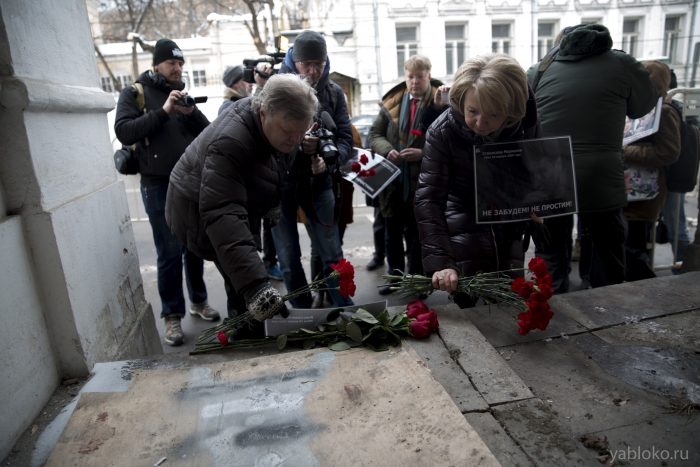 The murderer attacked Stanislav Markelov and Anastasia Baburova on January 19, 2009, on Ulitsa Prechistenka, Moscow. He shot them in the head. Markelov died at the scene, Baburova died in hospital later that day.
Neo-Nazis Nikita Tikhonov and Evheny Khasis, who were suspected of the murder, were apprehended in November 2009. In 2011 Tikhonov was sentenced to life imprisonment, Khasis was sentenced to 18 years in prison. In 2015 Ilya Goryachev, the leader of the BORN nationalist organization, was sentenced to life in prison for arranging the murder of Stanislav Markelov and Anastasia Baburova.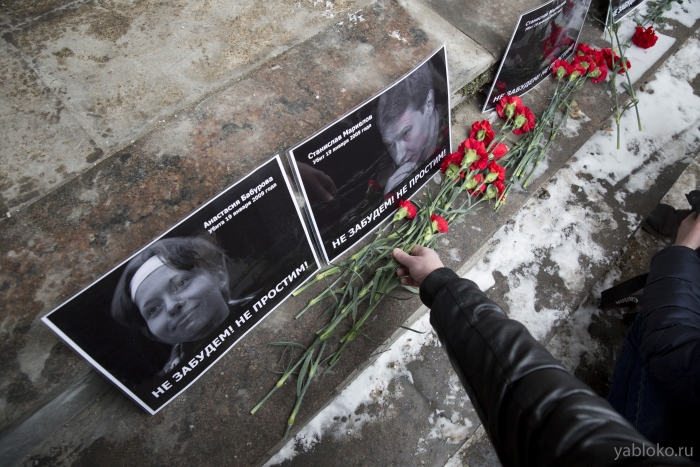 Posted: January 19th, 2017 under Human Rights, Street Actions.