YABLOKO commemorated the August Coup of 1991
Press release, 19.08.2016
On 9 August, YABLOKO commemorated the August Coup of 1991. YABLOKO Chair Emilia Slabunova, parliamentary candidate Vladimir Ryzhkov, and party Deputy Chair Alexander Gnezdilov laid flowers to the place where Dmitry Komar, Ilya Krychevsky and Vladimir Usov died during an incident in the tunnel of the Garden Ring Road, Moscow, overnight into August 21, 1991.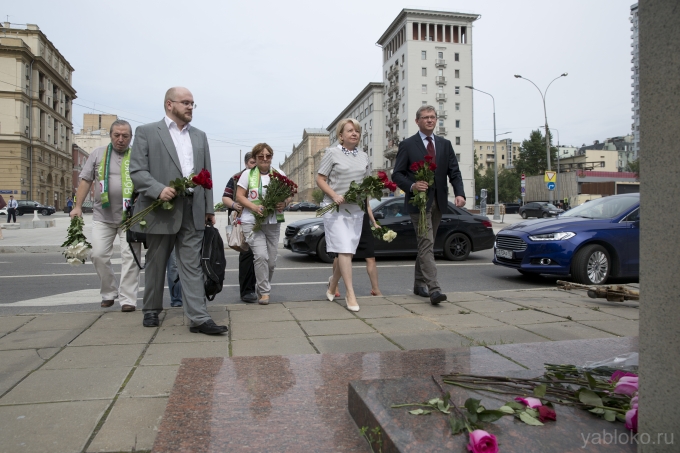 Emilia Slabunova explained the reasons why the coup attempt on behalf of the conservatives from the Communist Party failed: power can not be based on the fear of tanks and security services, it must be based on the respect for people; policy can not be dictated from one centre, is must have support on the local level; power can not stay in the hands of the same people all the time, it should be renewed regularly.
"All politicians must realise these lessons today, 25 years after the [occurrence]. Government must be changed, new people must create new reality. The foundation of stability of a state is local self-government, real federalism, and respect for a person. If we take these lessons into consideration, our country will become truly prosperous," YABLOKO leader stressed.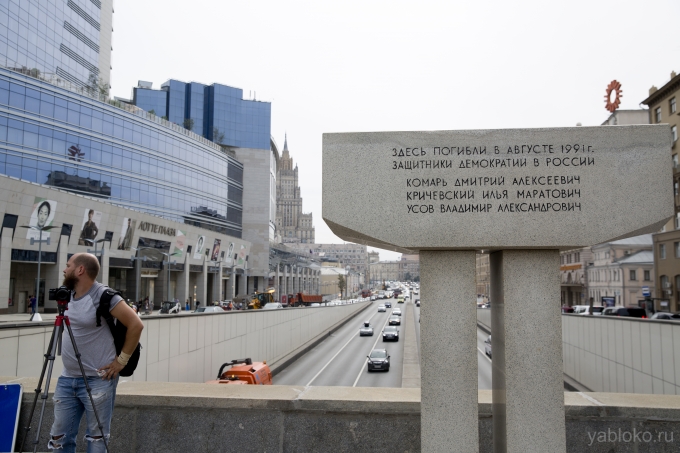 "25 years ago a group of adventurers called the State Committee on the State of Emergency made an attempt to stop the advancement of our country towards freedom and democracy. This group of adventurers was "trampled" by our citizens. The government which opposes progress, which pushes the country back to Joseph Stalin times will collapse inevitably. A county can develop only when it moves forward, when it keeps up with the times," Vladimir Ryzhkov said.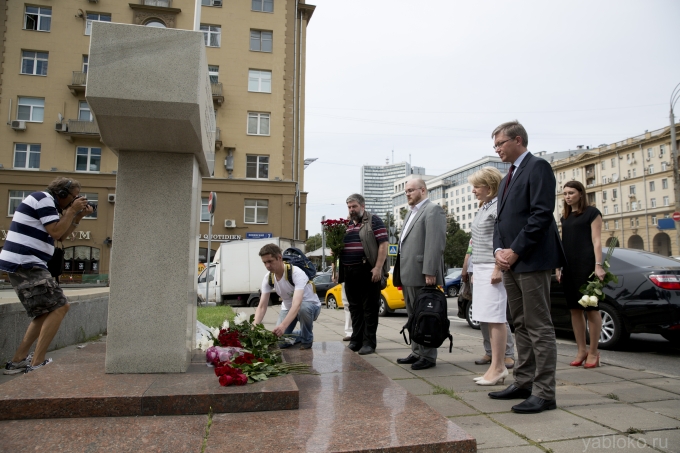 Alexander Gnezdilov noted that the heroes who died in the tunnel under Ulitsa Novy Arbat not only must be commemorated once a year but "we must hold true to the principles, which made them go to the streets, the principles they gave their lives for [such as] freedom, democracy, human rights, love for Russia".
The August Coup of 1991 was an attempt by a group of members of the Soviet Union's government to take control of the country from Soviet president Mikhail Gorbachev. The coup leaders were hard-line members of the Communist Party of the Soviet Union (CPSU) who were opposed to Gorbachev's reform programme and the new union treaty that he had negotiated which decentralised much of the central government's power to the republics. They were opposed, mainly in Moscow, by a short but effective campaign of civil resistance. Although the coup collapsed in only two days and Gorbachev returned to government, the event destabilised the Soviet Union and is widely considered to have contributed to both the demise of the CPSU and the dissolution of the Soviet Union.
Posted: August 22nd, 2016 under History.