Yabloko collected 10,000 signatures for Yavlinsky's nomination for President in three days
Press release, 29.12.2017
In three days Yabloko has collected 10,000 signatures in support of Grigory Yavlisnky's nomination for President. By 31 January, Yavlinsky must transfer to the Central Electoral Commission at least 105,000 voters' signatures in favour of his nomination, whereas only 2,500 signatures per region is allowed. Activists of Yabloko are collecting signatures in 79 regions of Russia.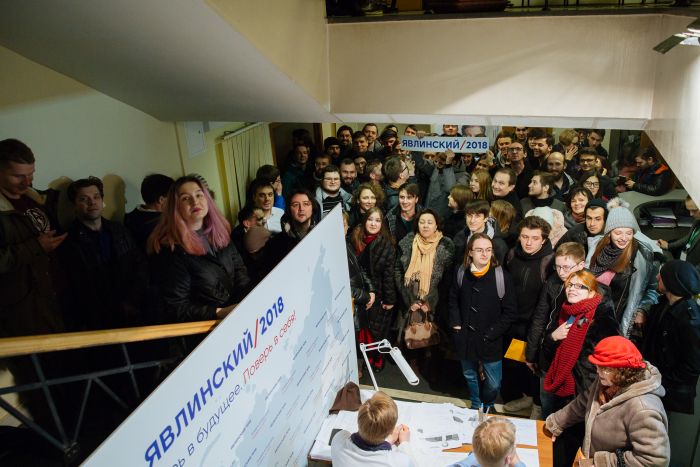 The collection of signatures takes place in the offices of the regional branches of the Yabloko party in 79 constituent entities of the Russian Federation.
"The first days of the campaign were a success – people put their signatures in support of our candidate with great enthusiasm. After 1st January our regional campaign headquarters will function more actively, said Nikolai Rybakov, Yabloko Deputy Chair and the head of Yavlinsky's Campaign Headquarters.
Rybakov called Yavlinsky's supporters to put signatures in support of the candidate. "We must bring the signatures to the Central Electoral Commission which they will not be able to dispute. This is why we need to collect at least half as much signatures," he added.
A famous film director Alexander Sokurov and a renowned Russian artist and Honorary Citizen of St. Petersburg Oleg Basilashvili have already put their signatures in support of Grigory Yavlinsky's nomination for the post of the President of the Russian Federation.
Yabloko has a great experience in collecting signatures for participation in elections. The party collected over 2 million signatures to register Grigory Yavlinsky as a candidate in 2012, in compliance with the requirements of the law. In 2011, Yabloko collected over 150,000 signatures to run in the parliamentary elections.
Posted: December 29th, 2017 under Presidential elections 2018.