The working hours of the YABLOKO's election headquarters on 10 September and the voting by the party leaders
Press Release, 07.09.2017
On a single voting day of 10 September, a hotline will be functioning in YABLOKO's central office in Moscow. The hotline will receive phone calls on violations. Journalists will be able to receive information about the situation on the polling stations as well as comments from party leaders in YABLOKO's Press Centre.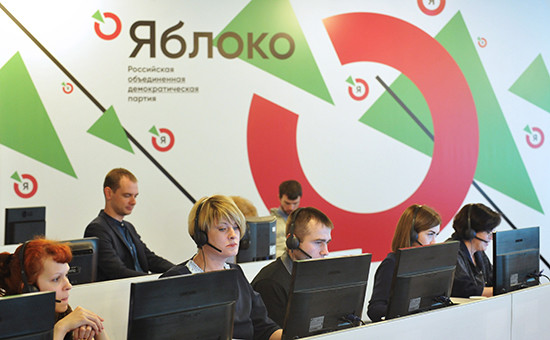 YABLOKO candidates will take part in the elections to the legislative assemblies of the Sakhalin and Saratov regions, city parliaments of Barnaul, Pskov, Tver and Yaroslavl, as well as municipal councils in all districts of Moscow.
The hotline will begin work at 7 a.m. on 10 September. It will receive calls about violations fixed by observers and party candidates at the polling stations in the regions where YABLOKO participates in the elections. The operators of the hotline will provide urgent legal consultations by phone and will help observers to draw up complaints to electoral commissions. Generalised information on violations will be transferred to the Central Electoral Commission via a representative of the party.
The information on violations will be available on the Telegram channel of YABLOKO's Press Service at https://t.me/yabloko_press
The election headquarters will open for the press since noon on 10 September. The Press Centre will provide opportunities for journalists to receive timely information about violations, as well as meet with party leaders at briefings. The first briefing is scheduled for 15:00. Nikolai Rybakov, head of YABLOKO's Electoral Headquarters and Sergei Mitrokhin, Chair of Moscow YABLOKO, are expected to take part in the briefing.
The second briefing will be held at 23:00. The first results of voting will be made public then. YABLOKO Chair Emilia Slabunova, Nikolai Rybakov, Sergei Mitrokhin and other top officials of the party will take part in the briefing.
Voting of Yabloko leaders in the municipal elections in Moscow
Grigory Yavlinsky, Chairman of the Federal Political Committee of the Party, will vote at polling station No 2579 (Osseniy Boulevard, 10 bldg. 3, Education Center No 1440), Krylatskoye District, at 12:00.
Sergei Mitrokhin, Chairman of the Moscow branch of the party, will vote at polling station No 174 (Komsomolsky Prospect, 43, school No 171), Khamovniki district, at 12:00.
Posted: September 8th, 2017 under Local and Municipal Elections 2017, Regional and Local Elections.