The attack on Stanislav Yegorov must be investigated immediately!
Statement by the Regional Council of the Voronezh branch of Yabloko, 24.07.2017
Civil activist Stanislav Yegorov, 68, was attacked in Voronezh. Three unidentified men burst into his flat and severely beat him with bats at about 4 a.m. on 23 July. Yegorov is at hospital at the moment. He was diagnosed with concussion of the brain as well as fractures of nose, jaw and a leg.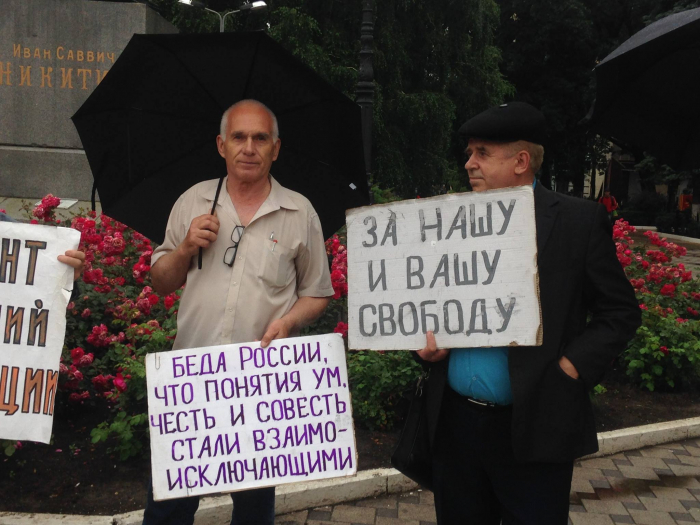 There is no doubt that Stanislav Yegorov's active civil stance was the reason for this mean crime. He constantly participated in the protest actions of the democratic opposition and the environmental movement, for instance, he protested against the extraction of nickel in the region. "Grandpa the blogger" – his friends and colleagues call him. He posts information about arbitrary rule, reveals corruption in the housing and utility sector, stands in support of the Voronezh reservoir. He has been campaigning for allowing Alexei Navalny to participate in the presidential elections. He is a brave person, he conducts one-person pickets in the centre of Voronezh in all weather.
The Regional Council of the Voronezh branch of Yabloko states that violence against the dissidents is commonplace in our country. This is the result of the atmosphere of intolerance and aggression in the society, and the authorities and pro-government mass media are responsible for it. We demand that the applicable government authorities must investigate the criminal attack on Stanislav Yegorov and bring both those who ordered and committed the crime to responsibility.
We express out support to Stanislav Yegorov and wish him a speedy recovery.
Tatyana Shkred
Chair of the Voronezh branch of Yabloko
Posted: July 25th, 2017 under Human Rights.