Sergei Mitrokhin: "No to obscurantism in the schools and universities of the country!"
Press Release, 02.09.2016
On 1 September when Russian schoolchildren go to school after summer holidays Sergei Mitrokhin, Chair of the Moscow branch of YABLOKO and party candidate to the State Duma, met with the voters of his constituency in the North-East of Moscow by the VDNKh metro station. He congratulated schoolchildren and teachers with the Day of Knowledge. Mitrokhin said that the task of the school was raising and educating free people who have the knowledge to meet the challenges of the modern world.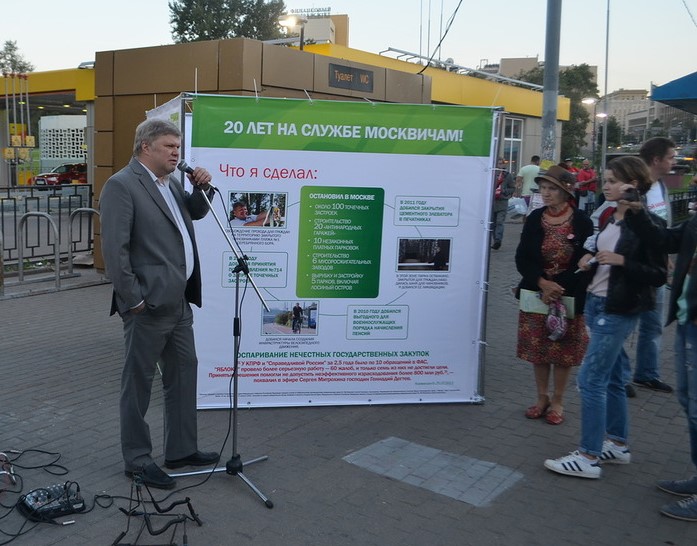 "There should be no place to imposition of any ideologies, obscurantism and brain washing with the ideas of hostility and intolerance to the opinions of others in our schools, secondary and higher education institutions," he said.
According to Mitrokhin, a cynical advice Prime Minister Dmitry Medvedev gave to teachers – to "go into business" so that to get higher salaries – shows the attitude of the government to not only teachers, but the entire society.
"Our officials and pro-government politicians have forgotten that they work for people and not vise versa. Instead of an honest conversation with citizens about the country's problems, they either trade on the fears and prejudices, using the means of propaganda, or resort to reprisals. Dozens of political prisoners is a shame modern Russia!" Mitrokhin said.
He also noted that for the years of the oil boom, neither the President nor the government had done absolutely nothing for a real reform of the economy and development of industry. The present government resembles a drug addict person with an oil needle in one hand and a gas tube in the other, and a hallucination of "economic greatness" in the head, whereas the collapse of the rouble after the fall in oil prices demonstrated the true value of their 'work'.
According to Mitorkhin, the task of the YABLOKO party was to free Russia from these hallucinations and destructive dependence on oil. "Our future faction in the State Duma will offer a package of bills on the development of the construction industry and development of the road network, land laws, support for small and medium-sized businesses, which will give effect to other sectors of the economy," Sergei Mitrokhin noted. "We will also defend the right of citizens and businesses to the inviolability of private property. The way in which our government treats this right was demonstrated by the recent demolition of trade pavilions in Moscow that had been allegedly constructed without all the due documentation and permissions.
Mitrokhin stressed that even without representation in government, and he and other members of the YABLOKO party had managed to uncover and prevent a lot of corruption schemes and to provide real assistance and protection to citizens. If there were YABLOKO faction in the Duma, this work would be even more effective, he added.
Posted: September 3rd, 2016 under Elections, State Duma Elections 2016.