Police detained the organisers of a rally in memory of Boris Nemtsov in Stavropol
Press release, 22.02.2017
Police has detained Kirill Bobro, YABLOKO Youth leader in Stavropol, south Russia, and two party activists. The law enforcement claim that the picket, which the activists held for days ago by the FSB security service building , had not been authorized by the city hall. Kirill Bobro is on of the organisers of a rally in memory of Boris Nemtsov, which will take place in Stavropol on February 26.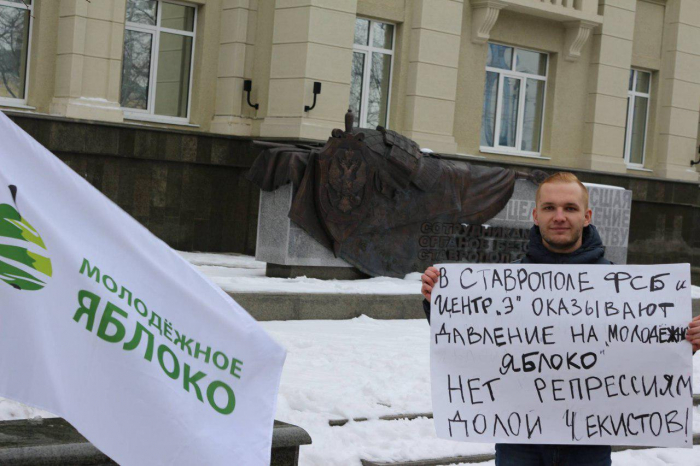 A serious of one-person pickets against the persecution of political activists in Stavropol took place by the FSB office on February 18. The activists had only one placard which they held in turns, therefore it was a one-person picket, which requires no special sanction according to the legislation. The police officers, who observed the protest action, had no complaints against the activists.
On February 22, four days later, police arrived at the falts of Kirill Bobro an two other activists and took them to a police department, where they were charged with a violation of Article 20.2 of the Administrative Code (violation of the established procedure for organising or conducting a gathering, meeting, demonstration, procession or picket). Kirill Bobro refused to sign the report and required a lawyer.
The activists picketed the FSB office because of the threats to another organiser of the rally Anastasia Antonets. On February 17, the FSB officers came to the flat of Anastasia Antonets' parents under the pretext of checking their gun license. They asked the parents to warn their daughter against the possible negative consequences of the rally ("what if someone is going to drink alcohol in a public place or suddenly breaks a couple of benches" an so on). They also demanded that on February 20 Anastasia Antonets must write an application on the rejection to hold the rally and stop further political activity.
YABLOKO Chair Emilia Slabunova forwarded a request to the FSB Chief Alexander Bortnikov demanding to bring the department officers to responsibility for putting pressure on the party activists in Stavropol. YABLOKO claims that such actions are unlawful and unacceptable, they put obstacles in the way of freedom of expression of people and violate one of the basic constitutional rights of the citizens – the right to freedom of assembly, runs Emilia Slabunova's request.
UPD. On February 23 the activists were released from the police department. The court hearing on the case will take place on February 28.
Posted: February 24th, 2017 under Human Rights, Murder of Boris Nemtsov, Persecution of Young Activists in Stavropol, Street Actions, Yabloko Youth.