Head of Yabloko's local branch attacked: a man slashed her face with a metal sheet
Press release, 17.08.2017
On 10 August, Natalia Nadler, the head of the local Yabloko branch in the city of Volzhsk, the Leningrad Region, was attacked. She had rebuked a man, who had made a fire of ruberoid and tires at the allotment neighbouring her cottage. The man had taken a metal sheet and had slashed Natalia's face with it.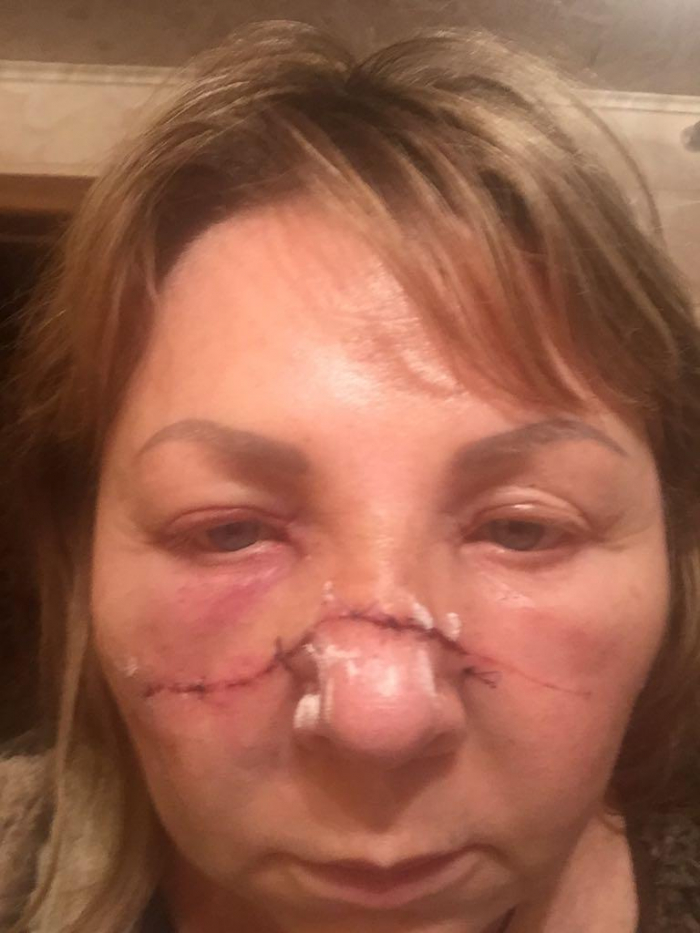 Natalia Nadler called the police right after the attack had taken place, however, they arrived in two hours time. They failed to find the attacker. According to the neighbours, the attacker is involved in building of a house at the allotment, where the attack took place. He is a distant relative of Andrei Efremov, the land plot owner and ex-Minister of Economic Affairs of the Orenburg Region, who was convicted of large scale fraud.
The police still have not interrogated the victim and have not detained the attacker.
Yabloko leaders forwarded an appeal to the Ministry of Internal Affairs and Prosecutor General's Office demanding to find the attacker and bring him to responsibility as well as bring the police officers, who are sabotaging the investigation, to disciplinary responsibility.
Natalia Nadler is a well-known defender of Sofiyevka Park. Several years ago local authorities gave their permission to develop the territory of the park. In 2015 Yabloko and local residents managed to put the park on the list of cultural property sites of the Leningrad Region. However, the local administration still has not finished the procedure of legitimisation of the park, and Natalia Nadler is addressing the issue quite often. So, she is out of favour with the local authorities.
It has already been a fourth attack on Yabloko's representatives this month. On 10 August, Alexandra Parushina, the incumbent municipal deputy of the Khamovniki district, Moscow, was beaten and pushed into a ditch by unidentified persons. She was diagnosed with brain concussion.
On 8 August, Georgy Malets, Yabloko's candidate for municipal deputy in the Orekhovo-Borisovo district, Moscow, was attacked. He rebuked young men who were driving a car on the pavement. The three young man attacked him and broke his nose.
On the night of 4 August, unidentified persons attacked the house, where the deputy of the Pustoshkinsky district assembly, the Pskov Region, and Chair of the local Yabloko branch Svetlana Vasilkova lives.
Posted: August 17th, 2017 under Human Rights.