Grigory Yavlinsky:"This system can not be reformed, it should be replaced like a broken TV set"
Press release, 10.09.2016
YABLOKO leader Grigory Yavlinsky presented his book "Peripheral authoritarianism. How and Where Russia Has Come" at the 29th International Book Fair at the All-Russia Exhibition Centre in Moscow.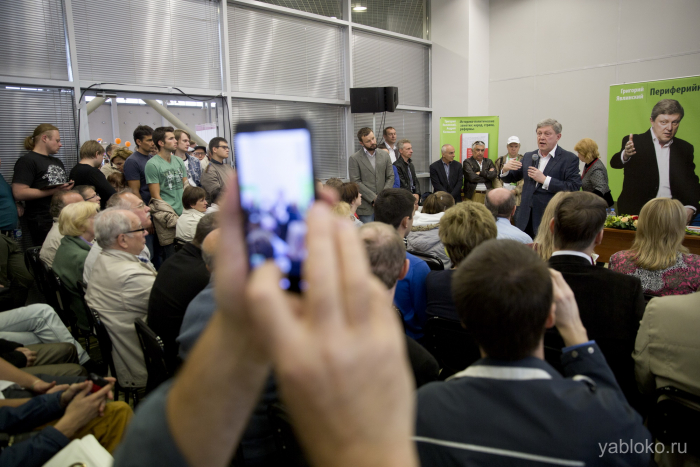 The author called his new publication "a book of action": "I needed such a book myself as a first step towards action. The thing is that you have to realise that situation and what is really going on before you start doing something". Yavlinsky confessed that he did not want the book to be a publicistic work or a sermon. "I wanted to remain a researcher in order to explain what is going on in the country to myself and the readers honestly, supporting the facts."
The developments and transformation of Russia's political system described in the book led to what we can observe today: creation of the National Guard, the only independent pollster was blacklisted as a "foreign agent", deputy head of the Ministry of Internal Affairs' Committee for Economic Security and Combating Corruption was arrested after a search of his home revealed stacks of cash worth 8 billion rubles [$123 million], President appointed his bodyguards Governors of the Tula and Kaliningrad Regions and an expert on Orthodoxy and Stalinism was appointed Minister of Education.
"This system can not be reformed, it should be replaced like a broken TV set. If we leave the system like this it will deteriorate," Yavlinsky claims. He stressed that the transformation must be peaceful and lawful.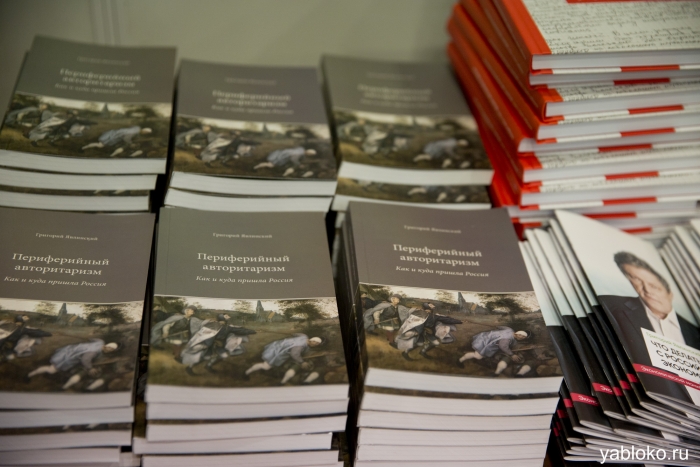 The politician also spoke about his book "Notes on History and Politics: the People, the Country, and the Reforms" written together with Andrei Kosmynin. The book denies a popular opinion that reforms in Russia are not successful because of people's mentality.
"The problem is not with people. The problem is with the implementation of reforms, policies, with the aims of the reforms and the people who do them," he said.
Yavlinsky quoted renowned film director Alexander Sokurov who said that there were two types of liberals in Russia – those who wanted Russia to be a European country but, at the same times, hated the country the way it is and liberals who wanted to do the same thing but loved Russia. According to Sokurov, YABLOKO is the second type of liberals, therefore he headed the party list of candidates to State Duma in St.Petersburg.

Posted: September 13th, 2016 under Education and Science, Elections, State Duma Elections 2016.