Emilia Slabunova: "Stability is not determined by the number of years that Putin remains in office"
Nezavisimaya Gazeta, 04.04.2017
Yabloko is almost the only party in Russia where the number of women members is (though slightly) higher than the number of men. In addition, what is even more surprising, only in Yabloko about 90 per cent of party members have a higher education. Moreover, it was Yabloko, the only one among other political heavyweights, which elected a women as its leader. Emilia SLABUNOVA, who was elected Yabloko Chair in December 2015, told Daria Garmonenko, a Nezavisimaya Gazeta correspondent, about the difficulties of a woman's path in politics, her relationship with male colleagues and, of course, about the perspectives of the party not only in the presidential election, but in general.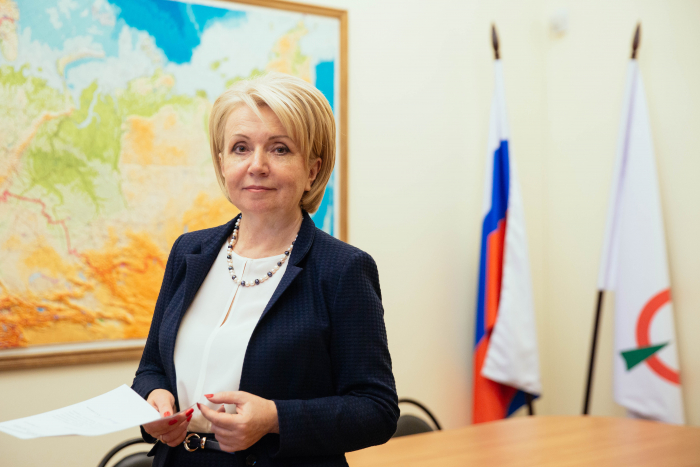 –  Emilia Edgardovna, your party has recently made a statement on the forthcoming renewal of Yabloko, is it the question with internal reforms or positioning?  
–  We are planning to change our positioning. Following the results of the 2016 election campaign we came to the conclusion that we must go beyond our constituent electoral groups and address the whole society. I spoke about this a year ago, at the party congress in spring 2016, but we adhered to the old approach during the election campaign. We need an attractive programme written in plain language in order to address all people.
– A large number of your party adherents noted that the campaign was very poor in terms of addressing the voters. Yavlinsky had a slogan "The Power of Respect", but one cannot base a campaign on it. You promised a radical campaign but it all turned to abstract slogans. 
– No, we also had some very sharp political slogans, for instance, "Let Us Change Government Together!" and some slogans on the economic situation as well. Probably the problem is that we had a long list of slogans and not all of them turned out to be captivating enough. Now we are conducting a large-scale sociological survey in different regions of the country and we will make the conclusions to define all our messages in the most attractive way. It is already clear now that people want stability but it is important to explain to them, that stability is not determined by the number of years that Putin remains in office but by a person's wealth. Whether a person has property, which he can devise to his children. It is very difficult for destitute people to become a political nation. The essence of the reforms in 1990s was to grant people with property, but this did not happen, people were robbed. The privatization model, which was implemented,  resulted into oligarchic capitalism, so, property turned out to be centralized within a limited set of persons by means of loans-for-shares actions and fraud schemes. It is vital to create a propriety class.
Therefore "Land. Housing. Roads" is the core of Yavlinsky's programme at the presidential election. We also stand for social justice: natural resources revenues must be redistributed in favour of people who cannot provide for themselves due to some restrictions.
– You spoke about the economic part. But what about politics? After all, Yabloko is a democratic party.
– When we speak about the reform of the party, it does not mean that were are going to change our goals and values. Our aim is to create a modern state of a European type. Our values remain unchanged: they are democracy, freedom, a state governed by the rule of law, human rights. The present system cannot be reformed and the only way out of the crisis is changing the government.
– How big is your party, who are your party members and are there many young people?
–  We have nearly 28 thousand party members. 35 per cent of them are young people under 40 years of age. One in ten party member is under the age of 30. By the way, in 2016 31 per cent of our candidates at the elections of all levels were under the age of 35. Young people want to have the idea of the future and European values, therefore they come to us. Actually, our party is quite balanced both in terms of age and professional composition. 90 per cent of our party members have a higher education.
– In the beginning of 1990s Yabloko meant Yavlinsky-Boldyrev-Lukin. Now your opponents sneer at the name of the party saying that Yabloko is rotten and worm-eaten. And what does the party name mean for you? [Translator's note: "Yabloko" is an acronym of the names of its founders meaning "apple" in Russian.]
– As the British scientists say, an apple a day is good for one's health. The same thing with Yabloko – it is the health of our country, a fresh breath and an appetite for life. So, I absolutely disagree with my opponents' arguments.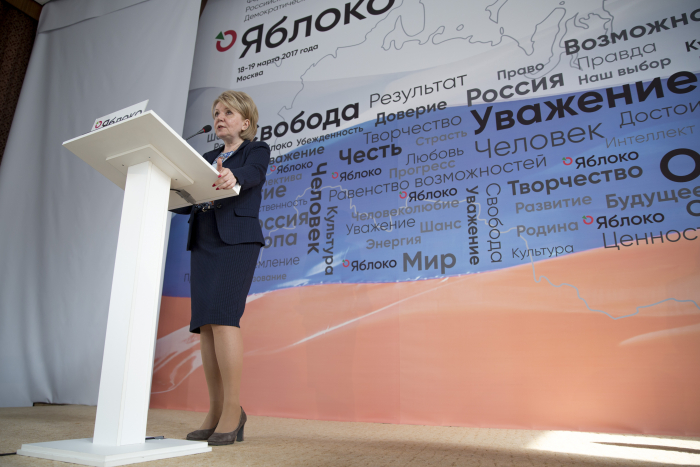 – And how do you share authority in your party? Who produces the main ideas? 
–  Yabloko is distinctive in that we are not the party of one leader, we are a team. The ideas are expressed not only by the Chairperson and Deputy Chairmen but by the members of the Political Committee and the Bureau, and heads of the regional branches as well. We are a democratic party and have many leaders, the party considers every opinion.
–  Do you like working with Yavlinsky? Is he a hard-line leader? 
– Grigory Alexeyevich is responsible for the ideological component as head of the Political Committee. On the one hand, it is easy to work with him, on the other, it is not. It is easy because we have the same values, he takes charge and he is honest, he aims to help people and does not adhere to populism. And it is difficult because due to the fact that he takes charge he can see all the ideas in the global context and tries to weigh all the consequences. And it takes time to make a decision. I am a more risky person and try to rise more dynamics. But he has been able to save the party [from braking up] for half a century due to his approach. They try to make some  pretensions to us, but we do not have any reputational losses,  the party is crystal clear. Actually, Yavlinsky is a politician who is ahead of his time.
–  Why did your party fail to become the party of the majority of liberals? 
– Firstly, the ideas of liberalism were seriously discredited [in Russia]. Now liberals are blamed for the policy of 1990s, they are called enemies and "the fifth column". But many fundamental ideas of liberalism were not implemented then. For example, a state governed by the rule of law and inviolability of private property. The economic basis was founded in a wrong way and, as a result, the ideas of liberalism were used only for the benefit of a limited set of persons. Therefore today we need a rehabilitation of liberalism, and all these myths must be annihilated. Secondly, on this flank we can see political parties, which to a greater extent are a means of self-assertion for some politicians rather than a means to fight for Russia's future.
– Your party made a decision to participate in the presidential campaign. But today a lot of people claim that elections make no sense since everybody knows who the winner is beforehand. Yabloko has also stated that elections are a farce more than once. Why do you nominate Yavlinsky [to run in the presidential race] then?
–  It is true that it is impossible to change the government in today's unfair elections. We did not recognize the results of the election to the State Duma and even challenged them in court. But, firstly, the nomination of a candidate is a way to get our estimation of the real situation in the country across [to the voters], to prove with arguments that both the internal and foreign policy path, where the current regime is heading, is suicidal.  And the system is not subject to a reform, it must be changed because we may pass beyond the point of no return. Secondly, we must show that the other way is possible too, that there are presidential candidates who know how to do it, they can name the real terms and mechanisms of realisation of their political aims. Thirdly, the only civilized way of changing the government is by means of elections, and we need to prove it to people. Otherwise it may turn into an unpredictable spontaneous revolutionary process at any moment, and the events of the 26 March were a sort of a wake-up call. No political force has the right to call itself democratic if its actions lead to revolutionary upheavals  and bloodshed. It means that the politicians are either unprofessional or deceive people on purpose and discredit democracy. In the conditions of crisis and instability of the system any contingency can be fatal. Therefore democrats should realise all the responsibility for the calls not to participate in the elections, it involves trouble.
–  Nevertheless, we remember the developments of August 1991 when the State Committee on the State Emergency wanted to remove Gorbachev, but people did not want to go back to the cruel political regime, they decided to stand for their rights, they did not shed blood, did not raid anything but at the same time it was a revolution. 
–  That is right. But it is 2017, and the regime grew so strong in the desire to preserve the power at any rate that this time the same scenario will not work. The government may go to coercive confrontation with people if it comes to this. News about political persecution arrives every day.
–  Tell me about your path. You are the first Chairwoman of one of the most famous parties in Russia. Do you feel any responsibility for women's future in politics? 
– I feel responsibility, of course. I remember that last year, when Valentina Matviyenko (head of the upper house of parliament – Nezavisimaya Gazeta's note) sent me a letter greeting me on 8 March. In her letter she asked me make effort so that as many women as possible would participate in the forthcoming parliamentary campaign. I answered that I agreed with her but also gave examples on what it is like to be a woman in politics at the moment. I told about my colleagues in the Republic of Karelia who are persecuted: Svetlana Chechil who was imprisoned; I was withdrawn from elections in 2013; Galina Shirshina was withdrawn from the post of mayor [of Petrozavodsk, head of the Republic of Karelia] and her deputy Evgenia Sukhorukova was charged with a three years suspended sentence accusing her of power abuse and fined her 68 million roubles; Olga Zaletskaya and Anastasia Kravchuk are facing up to ten year in prison. They were persecuted because they are members of an opposition political party, in the first place. But it is not easy to be a woman in politics, there is a glass ceiling, the majority of high-rank leaders, the president, prime minister, nearly all the governors are men. 58 per cent of Yabloko's members are women, we have a Gender faction. We are developing an alternative "Strategy of actions in the interests of women" to that of the government.
– What do you think about the ideas of [gender] quotas in politics?
–  I proposed to introduce this idea in the Legislative Assembly of the Republic of Karelia. When they tried to lower the number of deputies from 50 to 36 I developed and proposed an amendment introducing quotas so that at least 50 percent of deputies were women. The constitutional committee passed it by a solid vote, but it did not gain enough votes in the Legislative Assembly. Of course, women must compete within equal conditions of political competition but due to the fact that in Russia there is such gender disbalance and the number of women in representative bodies makes only 14 per cent, quotas may and must be used as an instrument of social designing for some time. In order to annihilate the disbalance. It will also contribute to the change of style of our politics. A woman focuses on reaching an agreement using peaceful means, she refuses to solve a problem from a position of force the way it is now.
– You are the incumbent deputy of the Legislative Assembly of Karelia. What are you working on now?
I am working on a number of sharp problems of the Republic which fall under my competence. Moreover, the party has plans for legislative work in 2017. We introduced a number of initiatives in the regions where we have deputies: on limiting the terms for transporting an inmate and informing their relatives – due to Ildar Dadin's case; on restoring the independence of the Russian Academy of Sciences; on abolition of the municipal filter in the election of heads of the entities[of the RF]; as well as an application on liquidation of the presidential envoys institution. We have just handed the Central Electoral Commission a package of amendments that the party proposes to introduce into the electoral legislation.
– What made you choose a political career and the Yabloko party, in particular? How did it turn out that attention was drawn to you within the last few years? 
– Children and young people [made me choose it]. When you work with children, you put all your heart in it (Slabunova was a teacher and a headmaster of a school – note by Nezavisimaya Gazeta), you try to create all the conditions to bring their talents to light, and you feel responsibility for their future. You see that nobody needs them in adult life, there is nothing to offer them, and nothing is done, even things that could be easily done, and this made me go to politics. I aimed at creating the conditions for young people. In 2001 I ran for Petrozavodsk City Parliament with Yabloko's support, and since I shared the values of the party I joined it two years later. In 2011 I headed the party list of candidates to the Legislative Assembly of Karelia, we formed a faction of four people, in 2016 I was elected for another term. In 2013 I ran for Mayor of Petrozavodsk but I was withdrawn two weeks before the election day [on political grounds] as it was clear that I was going to have a landslide victory. When I was withdrawn, I called everyone to support Galina Shirshina, and we won.
– What does your family think about your activity? Do your husband and children share your views?
– Yes, they share my views though they are not politically active but they approve of my work, and they gave me their blessing to participate in elections and become the leader of the party. My husband has always supported me. Now he "shares two homes" – in Karelia and in Moscow with me.
–  And the last question: some people argue that your party's time is out. What is your idea of Yabloko in 20 years time?
– Yabloko's time is not out, on the contrary, our time is coming. It is hard to predict what will take place in decades since the intensity of social changes is such that it is impossible to say what will happen in three or five years time. But what is clear: our values are eternal, they were tested by life. This is the way which was and is chosen by the civilization and the leading industrial countries.
Posted: April 5th, 2017 under Elections, Parliamentary Elections 2016, Presidential elections 2018.