Friends,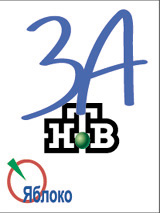 I am very glad that there are so many of us here today: this has not happened for a long time. We should have gathered here long ago, as we have a common goal. We must demonstrate to them all that we can not be made fools of and cannot be fed lies, as was the case in the past.
We all know why they are trying to eliminate NTV: so that we should never learn that we are going to be poisoned by [nuclear] waste; so that we should never learn that dozens billions of dollars were taken out of the country, as was the case last year; so that we could be told how they fight with terrorists; so that they could lie to us how they fight corruption. And we know that this is not a fight with terrorists, but a wide-ranging war, which is senseless and ruthless. We know that this is not a fight with corruption, but a fight with freedom of speech. What else will they tell us? How else will they lie to us?
We know this, but we would like to tell everybody: history will preserve the elimination of the freedom of speech, corpses, corruption and venal authorities, these things will remain in history, rather than the idle talk and lies of the PR people and image makers. And the future is ours, the truth and freedom is ours. Thank you for coming. We shall win!
See also:
Large Rally in Moscow Backs Independent TV
By Peter Baker and Susan B. Glasser
Washington Post Foreign Service, Sunday, April 1, 2001
20,000 Turn Out in Support of NTV
Combined Reports
The Moscow Times, Monday, April 2, 2001, p.3
Big Rally Defends Russia's Independent NTV Channel
By Ron Popeski
Reuters, Saturday March 31 8:24 AM ET
Russians Protest for Press Freedom
The Associated Press
Saturday March 31 11:52 AM ET
Thousands Demonstrate in Moscow
The Associated Press
Saturday March 31 7:11 AM ET